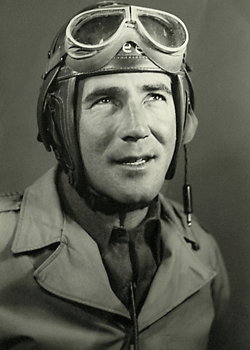 Louis W. Kleasner
Biography: Louis William Kleasner Jr. was born on November 22, 1916, in Fayette, Missouri. He was the son of Louis W. Kleasner and Mattie Lou Brown. He attended the White Hall School in Fayette, graduating in 1931. Following graduation, he worked as a truck driver until he moved to Santa Ana, Orange County, California, in April, 1937. Louis married the former Anna Belle Morrison on July 28, 1937. She was born in Watson, MO on Nov 7, 1915 and raised by her grandfather, George W. DeRosset at Morrisville, MO. Louis was employed by the California Cold Storage & Distributing Co. as a truck driver, working there until his induction.
Service Time: Louis entered the Army on Feb. 27, 1943 in Los Angeles, CA. He was assigned to Company C of the 656th Tank Destroyer Battalion. The unit arrived in England during December, 1944, disembarked at Le Havre, France, on February 6, 1945 and entered the line on Feb. 28, attached to the 9th Armored Division. They began crossing the Ludendorff Bridge at Remagen, Germany on March 8 and continued combat with the 9th AD until the end of hostilities on May 8, 1945. They received credit for the Rhineland and Central Europe campaigns.
Company C and the 2nd platoon of Recon Company were awarded a Distinguished Unit Citation for actions between Feb 28 and March 9, 1945. Louis earned the following medals during his service time: American Campaign, EAME Campaign, Good Conduct, World War II Victory, and the Distinguished Unit Badge. At the time of his discharge on Feb 8, 1946, he had reached the rank of First Sergeant.
Following his discharge, Louis returned to Orange County and his job with the California Cold Storage & Distributing Co (CCSDC), becoming the assistant manager and foreman for the firm in 1947. With a desire to go into business for himself, he purchased the Huntington Beach-Santa Ana Stage Line in 1955. Louis operated this bus line for 12 years, eventually growing it to include 7 buses for the regular routes and additional ones for charter services, all the while maintaining his position with the CCSDC. Anna Belle ran two beauty shops in Santa Ana.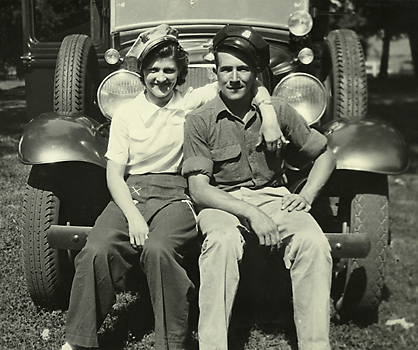 Louis was an enthusiastic member of several organizational activities in the Orange County area. He belonged to the Elks, Lodge No. 794, of Santa Ana, the American Legion, Post No. 131, of which he was a past board member and he was senior vice-commander of the Veterans of Foreign Wars. He also had a long time interest in baseball which led to him being instrumental in the development of the Junior Legion baseball teams from 1948 until 1956. He assisted in organizing the Little League of Santa Ana in 1952 and was the athletic chairman for the V.F.W. from 1948 until 1956, coaching and managing the teams. In addition to the above, he was also interested in model airplanes and the reading of history. He and Anna Belle traveled extensively, doing research on American history and genealogy. In the above photo, you can see Anna Belle and Louis, most likely sitting on the bumper of one of their coaches.

Louis passed away on October 25, 1976, and was buried at Harbor Rest Memorial Park in Costa Mesa, CA.
We would like to thank Louis's son, Larry, for providing the information and photos used for this tribute along with additional photos and documents posted on the 656th's unit page.