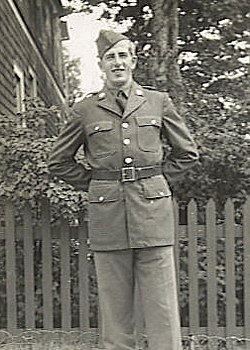 Walter P. Kwasniewski
Biography: Walter P. Kwasniewski was born on May 21, 1919, in Naugatuck, Connecticut. He was the son of Leopold Kwasnieski and Klementyna Gruszkowski and attended St. Hedwig School in Naugatuck. After leaving school, he worked at the family's business, the School Street Market.
Service Time: Walter entered the service on March 19, 1942, at Hartford, CT. He was assigned to the 643rd Tank Destroyer Battalion and spent time in both "C" and Headquarters Companies. Walter left the service at the rank of Technician 4th Grade.
When Walter got back to the U.S., he took over the family business and the making of the market's famous kielbasa from his father. He also worked for the footwear division of Uniroyal in the production of Keds sneakers. He also drove large fuel oil tankers for Thurston's Fuel Company. He had also worked in the deli department of Pathmark Grocery Store in Waterbury and he retired as Deli Manager from Southbury Food Market in Southbury. Walter had one daughter, Nadine.
Walter passed away on Thursday February 23, 2012, and was buried in the St. James Cemetery in Naugatuck.