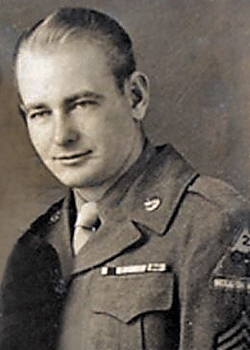 Bela Kolosi
Biography: Bela Kolosi was born on November 22, 1917, in Youngstown, Ohio. He was the son of Jozsef and Maria Henscel Kolozsy, who moved back to Hungary when Bela was a small child. The family returned to the U.S. in 1938, and made their home in New York City. He worked as a barrel-maker prior to the war and in the CCC (Civilian Conservation Corps) from 1939 to 1940. One of the major projects he was involved with was building of the Boca Dam, in California.

Service Time: Bela entered the service on February 6, 1941, and was assigned to the 702nd Tank Destroyer Battalion. He was promoted to Technician, 4th Grade on June 22, 1942. The unit landed on Omaha Beach, Normandy, France, on June 11, 1945, and participated in the 2nd Armored Division's drive during the Cobra Breakout in late July. They fought at Mortain and the Falaise Pocket before entering Belgium in September. Moving into Germany, they fought along the Siegfried Line, and at the Wurm River in October and November before being re-equipped with M36 tank destroyers in late November. They supported the drive to the Roer River but were moved to the Ardennes in December. They finally crossed the Roer in late February and the Rhine, a month later, finally ending their drive at the Elbe River.
The unit received credit for five campaigns, including Normandy, Northern France, Rhineland, the Ardennes and Central Europe. They were also awarded the Belgium Croix De Guerre and were authorized to wear the Fourragére on their uniforms. Bela received the American Defense Medal, the EAME Medal, the WWII Victory Medal, the Good Conduct Medal and the American Campaign Medal. Although his discharge lists him with Headquarters Company, we believe he spent some time with B Company, since he came home with the Distinguished Unit Badge earned by B Company for actions on July 27-30, 1944. He shipped back to the U.S. on September 23, 1945, and left the service on October 7, 1945.

After returning to the U.S., Bela worked as a postman in New York before moving to Youngstown, OH, in 1952. Following the move, he worked as a machine operator at the National Gypsum Company in Niles. On February 17, 1946, he married Barbara, who was born in Hungary. The couple had two children, a son, William, and a daughter, Mary. When he wasn't working or spending time with his family, Bela enjoyed wine-making. He was a longtime member, and councilman, of the Our Lady of Hungary Church, the Holy Name Society and the Hungarian Senior Citizens. He was also a member of the Steelworkers Local, No. 1405.

Bela passed away on October 23, 2009, and was buried at the Calvary Cemetery in Youngstown, OH. I want to thank Bela's son, Bill, for providing the materials for this tribute.