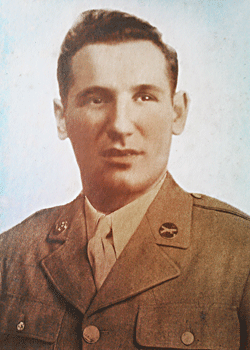 Christo Kapopoulos
Biography: Christo Kapopoulus was born on September 3, 1916, in New Bedford, Massachusetts. He is the son of George Kapopoulos and Jenny Pappachristopoulos and attended New Bedford High School through the 11th grade.
After leaving school, Christo worked as a fruit peddler and then as a bale handler before landing a job as a Wonder Bread truck driver.
Service Time: Christo entered the service on March 18, 1942, at Boston, MA, and was sent to Camp Shelby in Hattiesburg Mississippi, for his basic training. While stationed at Camp Shelby, Christo was assigned to Company C of the 643rd Tank Destroyer Battalion and began his training with the unit.
While on the train trip to Camp Shelby, Christo received a shoulder injury and it quickly became evident that it was serious enough to keep him out of combat. He was reassigned to the 329th Military Police Escort Battalion, which was tasked with guarding Japanese and American detainees. He was then assigned to the 802nd Military Police Battalion and shipped to Camp Heliopolis in Egypt. He remained there until the end of the war. Although he was never in combat, he did have a few scuffles with the Brits & Kiwi (British and New Zealand) soldiers. It was not uncommon for them to cause a commotion every now and then. Christo left the service at the rank of Private First Class.
Victory Dance Program* – Alexandria Port Command in Egypt
He returned to the U.S. and made his residence in East Falmouth, MA. He went into the food service business and eventually managed the Falmouth hotel and a bar. On May 23, 1948, Christo married the former Kyriacoula "Kay" Papaconstantinou. She was born in New Hampshire and was the daughter of Lucas and Theodora Papaconstantinou. The new couple had four daughters. Christo enjoyed his work, and also traveling, and was a member of the AHEPA (American Hellenic Education Progressive Association), whose mission is to promote the principles of humanity, freedom and democracy. He retired in 1986, and was a lifetime member of the Amvets.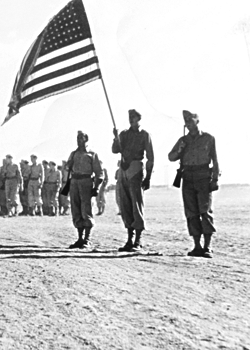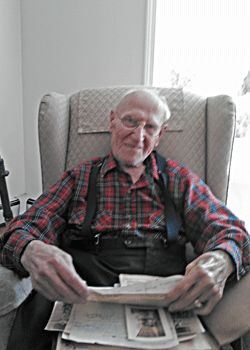 In the photo above left, you can see Christo while stationed in Egypt. He is the soldier on the far left. On right, Christo looks through some of his letters and photos.
Christo passed away on September 12, 2022, at the age of 106. He was buried in the Massachusetts National Cemetery in Bourne, MA. I want to thank his son-in-law, Mike, for helping to gather the materials for this tribute.
*The Victory Dance Program was provided by Peggy Goodwin who is the daughter of Olie B. Smith who served with Christo, while stationed at Alexandria, Egypt. Both their names are listed in the program.