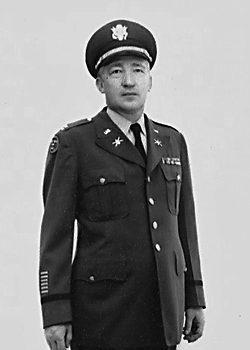 Milo Kovac
Biography: He was born Miloslav Kovacik, in Pukanec, Czechoslovakia, on December 20, 1919. He was the son of John Kovacik and Elena Schove and went to school at PS#75 in New York City and graduated from Theodore Roosevelt High School. He continued his education at City College of New York and completed two years of studies. He also worked as a New York City fireman prior to the war.
Service Time: When he entered the service on January 16, 1942, he was listed as Milton Kovac, which was an obvious change to simplify his name, but as time went on, he became known as Milo Kovac to all he served with. He received his basic training at Fort Bragg, North Carolina, with specialized field artillery instrument and survey section instruction. He was chosen for Officer Candidate Training and received his commission as a Second Lieutenant in November of 1942.
Milo was sent directly to Europe as a replacement and was assigned to the 813th Tank Destroyer Battalion as a platoon leader and continued in that position throughout the war. In November of 1944, while in France, Milo was wounded when a bullet went through his left hand. He was evacuated and treated but when he was released from the hospital, he was assigned to the 398th Military Police Battalion. He served as a platoon leader and Company Executive Officer.
Milo was honorably discharged on January 19, 1946. He received credit for participation in the campaigns of Tunisia, Sicily, Normandy, Northern France and Rhineland. He had reached the rank of First Lieutenant and received the Purple Heart for his wounds.
Milo remained in the Army Reserves and on November 2, 1950, he was recalled to active-duty for the Korean Police Action. He was assigned to the 338th Military Intelligence Services Battalion, which was stationed at Ft. Meade, Maryland. Milo became an IPW (Interrogation Prisoners of War) Detachment Commander and Motor and Mess Officer. He was released from active-duty on May 2, 1952, and remained in the Active Reserve until October 15, 1961, when was recalled to active-duty again and assigned to the 14th Military Intelligence Battalion. Beginning on November 8, 1961, he was placed on special duty with the 1st Military Intelligence Battalion, which was an active Army Unit. He became the unit's unit S-3 (Staff) Officer until July 10, 1962, when was finally released from active-duty with his reserve unit on August 8, 1962. He had reached the rank of Lieutenant Colonel.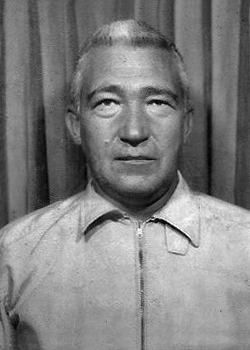 While Milo was not serving in the military, he was serving his community in the New York City Fire Department. He was also a member of the Immanual Lutheran Church and the Whitestone Boosters Civic Association. In 1949, he married the former Anne Mikulec who was born in Stara Tura, Czechoslovakia. She was the daughter of Thomas Mikulec and Anna Didec. The new couple had two sons, Robert, born in 1950, and Ronald in 1954. They made their residence in Whitestone, New York.
Milo passed away in April of 1979 and was buried in the Woodlawn Cemetery in New York. His family remembers him as a great warrior and a true role model. I want to thank Milo's son, Ronald, for providing the photos and information for this tribute.