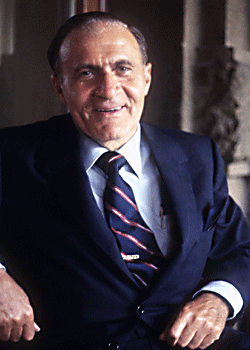 Ludolf Klein
Biography: Ludolf Klein was born on July 1, 1913, in Munich, Bavaria, Germany. At 23 years old, he emigrated to the U.S. aboard the S.S. Manhattan, sailing from Hamburg, Germany, on July 28, 1937, and arriving at the New York Port on August 5. The ship's manifest lists his occupation as Dept. Store Clerk. He arrived in the U.S. with his mother only. His father had passed away when he was a young child so he was primarily raised by this mother. The family was tipped off that the Gestapo was going to raid their town the following day and they would be made unwelcome. With only hours of notice, they packed their belongings and left town. His grandparents were able to escape the war unharmed within Europe, eventually emigrating to the U.S. following the war and reuniting with Ludolf and his mother in the NY area. His first job was as night janitor at the Empire Hotel on the upper west side of N.Y.C., near 57th Street.
Service Time: Ludolf entered the Army on October 13, 1942, in New York City, even though he was not yet an American citizen. His enlistment record indicates he had completed four years of high school. He excelled during his training at the TDRTC (Tank Destroyer Replacement Training Center) with Company B, 141st TDTB (Tank Destroyer Training Battalion) at North Camp Hood, Texas. Brig. General Alexander O. Gorder, commander of the TDRTC, pinned the Legion of Merit Medal on Ludolf for, quoting from the citation, "exceptionally meritorious conduct in the performance of outstanding service as battalion supply instructor". The citation further stated that in addition to his regular duties as an instructor, he voluntarily, and on his own time and initiative, devised and constructed a number of visual training aids, medals, and charts which proved to be of great value to trainees and he also prepared a "data book" which was issued to trainees as an instruction manual and reference book. Ludolf remained at the Training Center his entire military stint. He left the service at the rank of Master Sergeant. The following two articles relate to Ludolf being awarded the Legion of Merit.
Camp Hood Panther – Issue 18, Vol. 2, 4/13/44
Camp Hood Panther – Issue 22, Vol. 2, 5/11/44 (See page 8)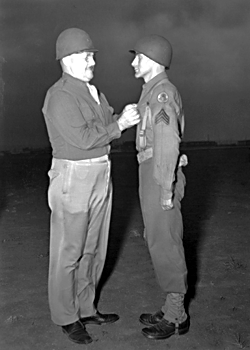 Post-Service: After leaving the service, Ludolf returned to the New York City area. On a trip to St. Louis, Missouri, he met his future wife and they eventually married, moving to NYC to work for Bond Street Ltd., where he began a business of manufacturing and distributing fine leather goods which he managed for the rest of his working career. Ludolf passed away on May 19, 2000, and was buried at the Beth Moses Cemetery in Farmingdale, Long Island, NY.
We would like to thank Ludolf's family for providing much of the information and the photos used in this tribute.
The photo at left shows Ludolf receiving the Legion of Merit from BG Gorder.
The photo below is Ludolf giving a lecture at the TDRTC.