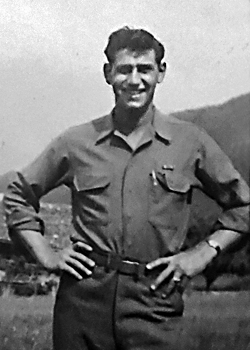 Eli Kazan
Biography: Eli Kazan was born on June 27, 1925, at his parents' home in the Bronx, New York. He is the son of Benjamin Kazan and Besie Duran and attended Evander Child High School, also in the Bronx. When he enlisted, his school provided him with his diploma early since it was prior to normal graduation. To help the family, he worked with his father, on a horse-drawn wagon, selling flowers and produce.
Service Time: Eli entered active service on December 14, 1943, at Fort Dix, New Jersey. He was sent to Fort Hood, Texas, for his basic training, and was assigned to Company A of the 824th Tank Destroyer Battalion. He shipped out with them from the New York port on October 14, 1944, arriving at Marseilles, France, on October 29th with towed 3″ guns. They were initially deployed near Sarrebourg on November 27th and fought around Bitche and against the Siegfried Line in December.
The unit battled the German Nordwind offensive in January, 1945, and converted to M18's in March. They crossed the Rhine on the last day of the month and joined the stiff fight at Heilbronn on April 8th. The 824th then advanced to the Austrian border by month's end and cleared the Bavarian mountains before taking Innsbruck in early May.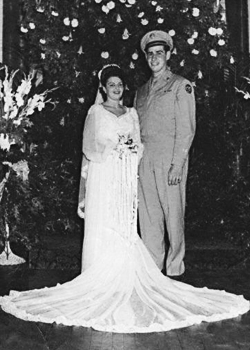 Eli shipped back to the U.S. on July 1, 1945, arriving on the 13th. He expected to ship out to the Pacific Theater, but the war ended before he left. Prior to leaving the service, he married Claire Salnick on July 29th, whose photo he had carried throughout his time overseas. She was the daughter of Isadore Salnick and Rose Cantor.
He received the American Service Medal, the Good Conduct Medal, the WWII Victory Medal and the EAME Medal with credit for two of the unit's campaigns, including Southern France and Rhineland. He left the service on April 19, 1946, at the rank of Private First Class.
Eli and Claire made their home in Florida until 1947, when they moved to the Bronx. The couple had three children, Maxine, born in 1947, Mindy in 1951 and Beth in 1958. He drove a Diamond T truck delivering flowers and produce but his entrepreneurial spirit had him involved with several businesses throughout his life. He owned three different flower shops and then entered the restaurant and bar business, owning three of them also.
In his spare time, his interests include gambling, working out and fishing. He was also a lifetime member of VFW #375 and a member of the Blink Gym in Yonkers, New York. He still enjoys spending time in the weight room as shown in the photo below. He is very proud of his service in the tank destroyers and along with wearing his veterans hat, he also flies two American Flags outside the windows of his new red Buick. At the time of this writing, Eli has 2 grandchildren and 4 great-grandchildren. Thank you to his grandson, Rick, who provided the information and photos for this tribute. We also want to thank Eli for his service to this country and wish him long life and good health.