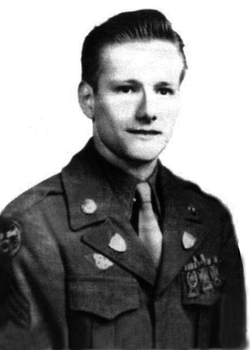 Lester R. King
Biography: Lester R. King was born on November 25, 1924, in Fort Wayne, Indiana. He attended local schools through the 11th grade.
Service Time: He entered the service on April 8, 1943, at Toledo, Ohio, and was assigned to Headquarters Company of the 608th Tank Destroyer Battalion. He trained with them until the unit was deactivated on December 22, 1943. Lester was then assigned to Company A of the 643rd Tank Destroyer Battalion, along with a number of other men from the unit. The 643rd was initially equipped with the 3″ towed gun.
The shipped out from the Boston port on September 5, 1944, and arrived at Cherbourg, France, on September 15th. Their first engagement was near Manhay, Belgium, on December 22, 1944. They crossed the Roer River on February 24th and were then re-equipped with M18's in March. At that point, Lester served as an assistant gunner on the #3 gun (M18) in the 2nd platoon. The men named their gun, "Angel's Chariot", and soon crossed the Rhine River at Wesel and then the Elbe River on their way to Zerbst. They were finally withdrawn to take up occupation duties in the Harz Mountains.
He left the service at the rank of Sergeant and received credit for the campaigns of Rhineland, Ardennes-Alsace and Central Europe. He was awarded the EAME Medal, American Campaign Medal, the WWII Victory Medal and the Good Conduct Medal.
Lester returned to the U.S. and went to work for the Pepsi Cola company in Fort Wayne. He married Betty and they were together for 41 years. The couple had two children, Cheri and David. In his spare time, Lester employed his artistic skills by making crafts and wooden furniture. He was also an amateur historian and published two books including "Hellcats Don't Leak Oil, They Mark Their Territory". He had also been the President and Vice President of the Battle of the Bulge Organization – Arizona Chapter 26.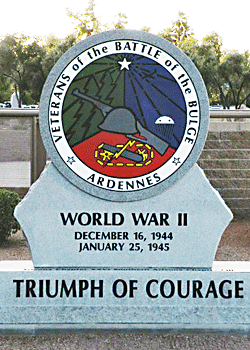 He was particularly proud of his fund raising activities to construct a monument in honor of those who fought and died in the Ardennes campaign during WWII. The monument now stands in the Wesley Bolin Memorial Plaza, which is directly in front of the State Capitol in Phoenix.
After the death of his first wife Betty, Lester married Patricia who passed away after 11 years of marriage. Lester finally married Gloria, who was still living at the time of his death, on March 30, 2007.