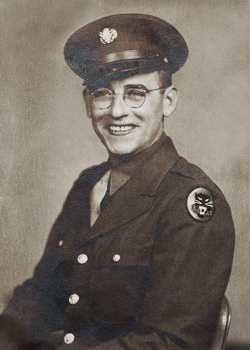 Frank C. Kovacsik
Biography: Frank Carl Kovacsik was born on September 13, 1909, in Kormend, Hungary. His father immigrated to the U.S. in 1913 and Frank, his mother, two sisters and a brother, arrived the next year. He grew up and attended local schools through the 11th grade in Columbia Township. The 1930 Census indicates he was working as a laborer in an automobile factory. Frank was living in Oberlin, Ohio, in the early 30's and he's listed as being a 'metal finisher' at the Klermund garage. At some point, he married the former Helen Williams of Oberlin. He became an Oberlin police officer on August 1, 1941, and remained with the department until he was drafted.
Service Time: Frank entered the Army on December 11, 1942, at Cleveland, Ohio. He spent time at numerous training facilities including Camp Perry, Ohio, Camp Hood, Texas, and Fort Leonard Wood, Missouri, for basic training and promoted to Corporal. He was eventually assigned to the 608th Tank Destroyer Battalion and continued training at the Tennessee Maneuvers, Camp Atterbury, Indiana and Fort Jackson, South Carolina. On May 8, 1943, Frank was promoted to Technician 5th Grade.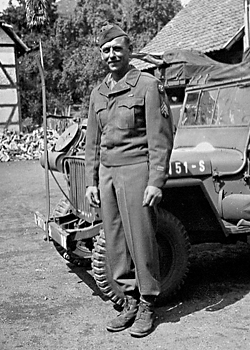 In December of 1943, the 608th was deactivated and Frank was among many men who were sent to the 607th TD Bn. He was in Company A when they landed at Utah Beach on June 17, 1944. In mid-November, the 607th was converted from the towed 3" gun to the self-propelled M36 tank destroyer armed with a 90mm gun. Shortly thereafter, the Reconnaissance Company was re-activated and Frank was transferred into that company. He worked as a mechanic maintaining and repairing the companies many vehicles.
The 607th was credited with the campaigns of Normandy, Northern France, Rhineland, Ardennes-Alsace and Central Europe. Frank earned the Good Conduct, EAME, WWII Victory and the American Theatre medals. He was transferred to the 771st TD Bn in July, 1945, along with many other low point men from the 607th. Sometime after that he was transferred to the 196th Field Artillery Battalion, returning to the U.S. with that unit aboard the J.H. Nicholson, arriving at Newport News, Virginia, on November 26, 1945. Frank left the service at the rank of Technician 4th Grade.
Frank returned to Helen and Oberlin upon his discharge. In 1948, he is listed as the Superintendent Body and Fender Department at H.G. Klermund Ford, a position he held until 1954-55. He is then listed as having his own shop called Frank's Autobody Service in Oberlin. He and Helen had one daughter, Karla, in 1948. Frank passed away on April 29, 1959 and was buried at Westwood Cemetery in Oberlin.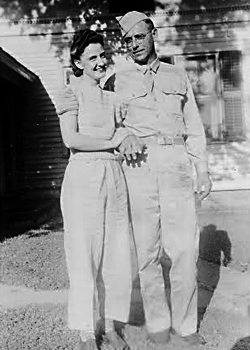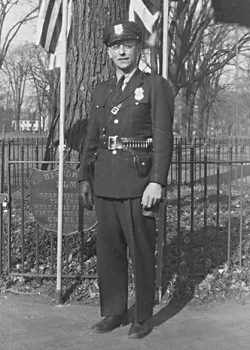 The photo at left shows Frank and Helen while he was home on leave. The right photo is while he was serving in the Oberlin Police Department.
We would like to thank Amanda Manahan at the Oberlin Heritage Center for kindly providing the information about Frank's post-service life.