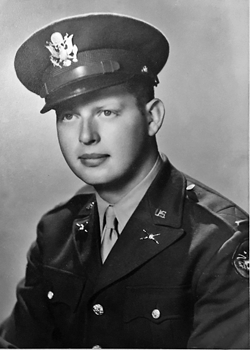 John P. Kehoe
Biography: John Paul Kehoe was born on October 8, 1915, in New York City, New York. He was the son of William James Kehoe and Elizabeth Sinnott. He attended local schools in New York and after graduation worked as a postal clerk. When John was nine, his father died and he helped to raise his two younger sisters. They lived in the very tough neighborhood of Manhattan, known as "Hell's Kitchen". John served in the National Guard as part of the coastal artillery and recalled firing artillery in Brooklyn, NY. He may have been stationed at the Fort Hamilton facility in Brooklyn, which was equipped with 10″ (254mm) guns.
Service Time: John entered the service on February 10, 1941, at New York City. We are not sure of his early training but it is believe that he was chosen for OCS (Officer Candidate Training) from which he would have graduated as a Second Lieutenant.
On August 8, 1943, while on leave, he married the former Mary Theresa Silk who had been born in Boston, Massachusetts, and was the daughter of Michael Silk and Mable Murphy. The photo below shows the couple on their wedding day in Oakland, California. He was then sent overseas where he was assigned to Company C of the 636th Tank Destroyer Battalion, which was already engaged in combat. Beginning on September 13, 1943, they were performing artillery missions, guarding the Fifth Army Command Post, and trained British troops on M10 tank destroyers and TD doctrine from October through November.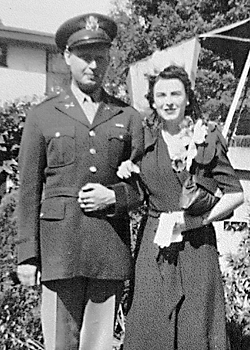 The unit reentered the line in the Mignano, Italy, sector in late November, supporting the assault on San Pietro. They supported the Rapido River crossing in January, 1944, and entered the Cassino sector in February, transferring to the Anzio Beachhead in May, and entering Rome on June 4th. They landed in Southern France on August 15th and were the first unit to enter Lyon and reach the Moselle River in September. They were engaged in the Vosges Mountain region beginning in October and relieved the 601st TD Battalion in Strasbourg in December.
The 636th battled the German Northwind offensive in January and February of 1945. At this point, John had received a field promotion and now held the rank of 1st Lieutenant. On January 21st, he and his platoon of three TDs were in the vicinity of Weyersheim, France. They came under heavy fire from 12 enemy tanks and John directed his units to open fire, which put four of the German tanks out of commission and forced the others to retreat. John was awarded the Bronze Star for Heroic Achievement for his part in the action.
On February 3rd, John and his platoon were near Rohrwiller, France, when they observed enemy cannon and machine gun fire on a house occupied by allied personnel. 1st Lt. John P. Kehoe directed his units to open fire on the enemy while he made two trips to the house to evacuate injured personnel, which was 300 yards away. The enemy was destroyed and John was awarded the Silver Star for his gallantry.
John related to his family that on another occasion, he and his men were pinned down by a German sniper and a number of men were killed. The sniper was spotted in a church steeple which was skillfully destroyed along with the sniper, thus saving the remainder of the men. It is not clear when John was injured but he did receive a Purple Heart and continued to have difficulty with the remaining shrapnel that was in his hand and arm for the rest of his life.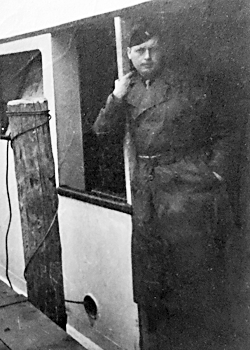 In addition to the medals already mentioned, John received the Soldier's Medal, which was awarded for distinguishing yourself by an act of heroism not involving the enemy. We do not have information on why he received this award, which may have occurred during his days of training on the U.S., but it is obvious that selflessness was part of who he was. In the photo above with Mary, John is already wearing a ribbon above his left pocket. This may have been the Soldier's Medal ribbon identifying that it had occurred prior to August 1942.
Once back in the U.S., John returned to Mary and his job with the U.S. Postal Service, although now he was working at the Distribution Center in NYC. The couple would make their home in Massapequa, Long Island, and John took the train to work each morning. They had three children beginning with Elizabeth, who was born during the war in 1944, John II in 1948 and Peter in 1953. John was also called back to the service in 1947, and again in 1949, in preparation for the Korean War. He would finally retire from the military at the rank of Lieutenant Colonel.
In his spare time, he enjoyed motorcycles and guns and was a member of the VFW. John passed away on January 1, 1986, and was buried in the Calverton National Cemetery in Riverhead, NY. I want to thank John's son, Peter, for providing the information and materials for this tribute.