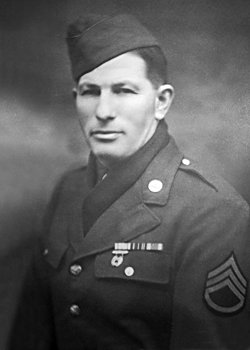 William J. Lloyd
Biography: William Jackson Lloyd, "Bill", was born on November 1, 1905, in Hooks, Texas. He was the son of William Franklin Lloyd and Louisa Caroline Autrey and attended local schools. He worked as a mechanic prior to the war.
On May 23, 1925, in Washington, Arkansas, Bill married the former Emma Marzella Peckenpaugh who was born in Arkansas and was the daughter of Louis Peckenpaugh and Annie Trimble. The new couple made their home in Pryor, Oklahoma, and have a daughter, Betty Joe, born in 1926. The couple had a second daughter born prior to the war.
Service Time: Bill enlisted in the Army on June 19, 1939. After his basic training, he would initially serve as an MP (Military Police) but after Pearl Harbor was bombed on December 7, 1941, he transferred into another unit. A photo of him shown below may indicate that he briefly served in an artillery unit prior to the tank destroyers.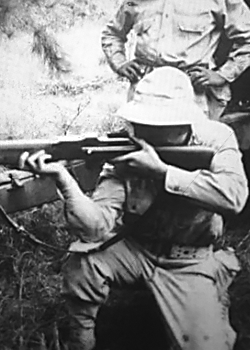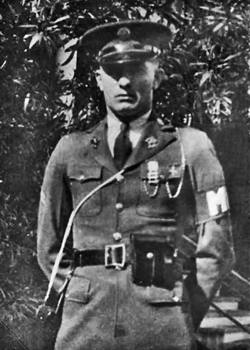 Bill was ultimately assigned to Company B of the 818th Tank Destroyer Battalion. The unit shipped out from the New York port on October 20, 1943, and arrived in North Ireland on November 1st. They landed in France on D+36 with M-10 tank destroyers and advanced across France during August and September to the area of Metz.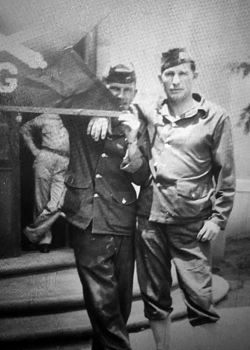 The 818th supported operations along the Saar River until December when they were transferred to the Ardennes sector. Participating in the race across Germany beginning in March, 1945, they converted to the M36 tank destroyer prior to mid-April and ended the war in Kienberg, Czechoslovakia.
Bill's ribbons indicate that he was awarded the American Defense Medal along with the EAME and Good Conduct Medals. He qualified as a Pistol Expert but can be seen wearing addition weapons qualifications while he was serving in the Military Police. He left the service on September 18, 1945, at the rank of Staff Sergeant.
In addition to Bill, at least two of his brothers, John and Joseph served in the Army. It was thought by the family that Bill's transfer to the Tank Destroyers was caused, at least partially, by his desire to be closer to his one brother who was being shipped to Europe.
Bill returned to Pryor and also returned to his former career as a mechanic. He and Emma had a third daughter, Billie Jane, in 1946. Bill passed away on June 20, 1973, and was buried in the Fairview Cemetery in Pryor, OK.
I want to thank Bill's grandson, Greg, for providing the photo and information for this tribute. I also want to thank Ken and Carolyn for the use of the grave marker photo.