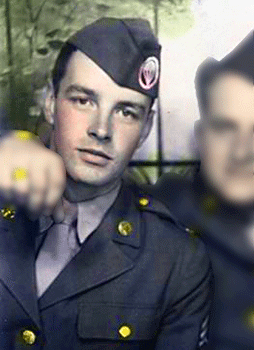 Frank B. Lenane
Biography: Frank Bailey Lenane, who went by Bailey, was born on February 2, 1921, in Boston, Massachusetts. He was the son of Frank Lenane and Elizabeth Bailey and attended Andover public schools through the 11th grade. After leaving school, he worked as a clerk.
Service Time: Bailey entered the service on March 30, 1942, at Boston, MA and after his basic training, he began receiving instruction as a paratrooper. At some point, he was transferred to the tank destroyers and assigned to Third Platoon, Company A of the 602nd Tank Destroyers Battalion.
The 602nd was equipped with M10 tank destroyers, and then M18 TDs before leaving the U.S. They shipped out on July 18, 1944, from the New York port, aboard the S.S. Bergensfjord and arrived in Scotland on July 29th. A month later they landed at Omaha Beach on August 26th. The unit was committed to battle along the Moselle River on September 9th and supported operations leading to the capture of Metz, France, in November.
They transferred to Belgium during the Ardennes Offensive, arriving at Neufchateau on December 21st. They supported operations against the Bulge in January, 1945, and fought through the Siegfried Line fortifications in February. The unit returned to the Moselle River area in March, and crossed the Rhine River at Boppard, Germany, on March 26th. They finally advanced through Gotha, Eisenach, and Zwickau in April.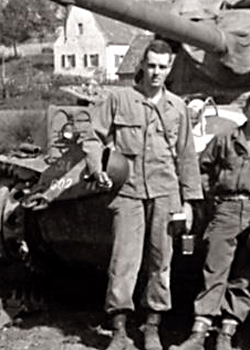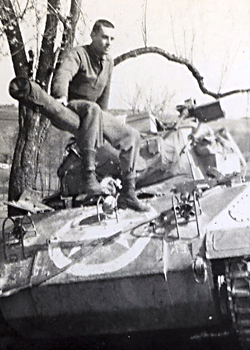 By late April, offensive actions were basically over for the 602nd and many of the men had opportunties to go on leave, see a movie or get some much needed sleep. On May 3rd, Bailey's name is mentioned in the A Company diary, when he led his third platoon to a baseball game win. His base hit with bases loaded gave his men some much needed bragging rights. Bailey left the service at the rank of Sergeant.
When he returned to the U.S., Bailey went to work for grocer S.S. Pierce as a store manager. He would later work in sales for the Baker & Taylor Company. In 1953, Bailey married the former Doris Campbell who was born in New Jersey and was the daughter of James Campbell and Doris Burns. The new couple had two sons, Brian, born in 1954 and Peter in 1956. In his spare time, he enjoyed playing tennis. Late in life, Bailey moved to New Hampton, New Hampshire.
Bailey passed away on August 5, 1994. He was cremated and his ashes were spread in the ocean at Hampton. I want to thank Bailey's son, Brian, and daughter-in-law, Susan, for providing the information and photos for this tribute.