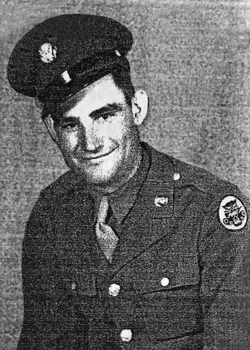 Francis D. Lightfoot
Biography: Francis Delbert Lightfoot was born on April 10, 1922, in Meigs County, Ohio. He was the son of Dallas Lightfoot and Edith Eliza Hysell and attended local schools until his mother died and he was forced to leave school and stay home to help care for his baby sister. When he was older, he went to work at a saw mill and a foundry.
Service Time: Francis entered the service on December 19, 1942, at Huntington, West Virginia. He was assigned to Company A of the 808th Tank Destroyer Battalion. The 808th shipped out from the New York port on August 11, 1944, and arrived in England on August 22nd. Less than a month later, they disembarked at Utah Beach in Normandy, France, on September 19th.
The unit entered the line east of the Moselle River, six days later, where it remained until transferring to the Ardennes on December 21st. They protected the XII Corps flank through January 1945, and then converted to the M36 in February. They supported the drive to the Rhine in March and the river crossings south of Boppard late in the month and joined the Third Army's drive through Erfurt, Nürnberg, and south into Bavaria. By early May, they had advanced to Linz, Austria. The 808th received credit for campaigns of Rhineland, the Ardennes and Central Europe.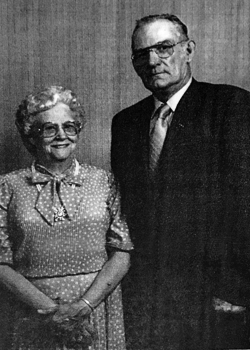 Francis returned to the U.S. and found work at a coal mine. On April 7, 1946, he married the former Clara Custer who was the daughter of John Custer and Bertha Ihle. The new couple would make their home in Middleport, OH, and have three children, John, Barbara and Tanya. At some point, Francis was injured in an accident causing him to be disabled and no longer able to work at the mine. He then worked as a farmer.
In his spare time, he enjoyed being with his children and animals and was also devoted to his church. Francis passed away on August 11, 2014, and was buried in the Rock Springs Cemetery in Rock Springs, OH. I want to thank Francis' grandson for his service in the military and for providing the information and photos for this tribute.