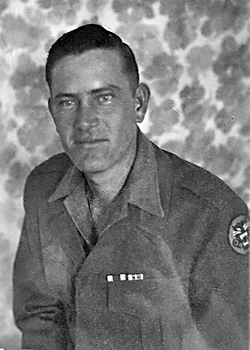 Sanford M. Little, Jr.
Biography: Sanford Mellie Little, Jr. was born on October 25, 1923, in Hagansport, Texas. He was the son of Sanford M. Little Sr. and Addie M. Elliot and attended school through the grammar level. He then worked as a farmer.
Service Time: Sanford entered the service on November 13, 1944, at Dallas, Texas. He was sent initially for basic training as an infantry soldier and was probably set to join an infantry unit already serving in Europe. Due to some kind of injury, Sanford was shipped overseas and assigned to the 631st Tank Destroyer Battalion, which had landed in France late in August, 1944.
The 631st performed rear-area duties in France, Luxembourg, and Germany for the duration of the war as part of Third Army. The 631st received credit for four campaigns and Sanford received credit for two of those, most likely Rhineland and Central Europe.
At the end of the war, the Third Army was assigned a large area of central and southeast Germany, which included Bavaria and the Dachau Concentration Camp, for occupational duties. While many of the men were shipping home due to their ASR Point scores, Sanford had entered the war in late 1944, so he was reassigned to the HQ Company, 6th Tank Destroyer Group. The 6th was station at Dachau overseeing the camp and the German prisoners that were now held there.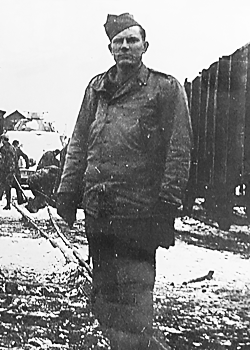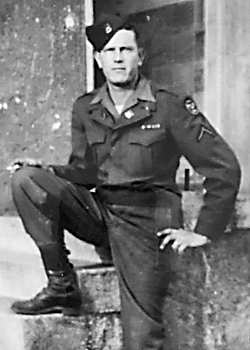 Sanford's discharge paperwork indicates that for a period of four months, he was utilized as a carpenter, which lines up with the 6th's history of doing whatever was necessary. Sanford remained with the unit until it transitioned into its policing force role as part of the 5th Constabulary Regiment. The Constabulary became operational on July 1, 1946, but they had been performing some of their responsibilities prior to that date.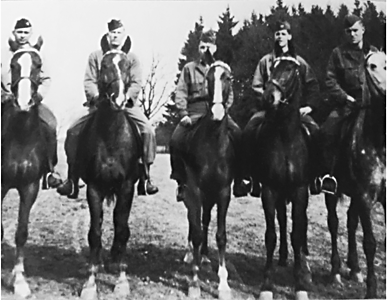 The photo at left shows Sanford, second from left, during his occupational time in Germany.
His time on the farm was probably a factor in him being chosen to lead a cavalry platoon and the training of the men. Sanford shipped back to the U.S. and was discharged on October 15, 1946, at Fort Sam Houston, Texas. He left the service at the rank of Sergeant.
Sanford returned to his former occupation as a farmer but also worked at a door company, manufacturing doors. He married the former Mable Jo Eaton and the couple had two children, Carolyn, born in 1949, and Michael in 1951. In his spare time, Sanford enjoyed hunting, fishing and woodwork.
He passed away on March 13. 2010, and was buried in the Fairview Cemetery in Franklin County, TX. I want to thank Sanford's grandson, Aaron, for providing the information, photos and other materials for this tribute. Thank you also to cc2thurman for the grave marker photo.