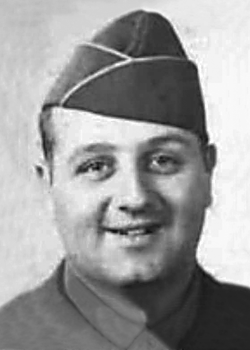 Carlo J. Licari
Biography: Carlo John Licari was born on June 24, 1919, in Brooklyn, New York. He was the son of John J. Licari and Aida Acunto. His enlistment record indicates he completed 4 years of high school and was employed in the building of aircraft.
Service Time: Carlo entered the Army on July 24, 1944, at New York City. While we don't know his whereabouts during the first 7 months of his service, he was assigned to Company C, of the 607th Tank Destroyer Battalion, as a replacement from the 59th Reinforcement Battalion, on March 4, 1945.
His military MOS (job he was trained to perform) was Tank Mechanic, Minor Maintenance. He was promoted to Pfc. on May 14, 1945. On July 10 of that year, he was transferred to the 771st TD Bn along with many other low point 607th men. He would have earned the EAME (with credit for the Rhineland and Central Europe campaigns), WWII Victory and the Army of Occupation of Germany medals. The 771st returned to the U.S. on Nov 29, 1945, docking at New York City aboard the USAT Edmund B. Alexander.
Carlo returned to Brooklyn and on March 11, 1947, and married the former Aida M. Scolarici in New York City. She was the daughter of Joseph and Adele Scolarici and was born in The Bronx, NY. They had three children, Aida, John J. and Valerie. He went to work as an aircraft mechanic for Republic Aviation and Grumman Aircraft Engineering Corporation. In 1967, the family moved to Pensacola, Florida, and Carlo worked for Westinghouse until he retired in 1983.
Carlo passed away on March 22, 2011. We would like to thank Chuck Licari for the information and photo used in this tribute.