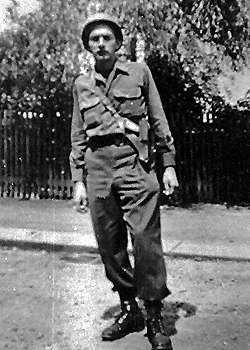 Lee Lopez
Biography: Lee Lopez was born on December 5, 1923, in Chino, California. He was one of six children born to Librado Lopez and Marcelina Cervantes Lopez and he attended local schools through the 11th grade. His enlistment record indicates that he worked as a bus, taxi truck or tractor driver prior to the war.
Service Time: Lee entered service on January 8, 1943, from Los Angeles, CA. About January 15, 1943, while stationed at Camp Bowie, Texas, he was assigned to the Headquarters Company of the 823rd Tank Destroyer Battalion. During his training, he qualified as an Expert with the pistol.
The unit shipped out from the Boston port on April 6, 1944. They arrived in England on April 17, 1944, and after two months of additional training and preparations, they boarded transports and landed at Omaha Beach in Normandy, France, on June 24th. They were equipped with towed 3-inch guns and supported the drive on St. Lô, fighting at Mortain in August.
They passed through Belgium and Holland, entering Germany on September 17th, and fought along the Siegfried Line in October, including the encirclement of Aachen. They then converted to self-propelled M10 tank destroyers beginning in November. Lee was trained as a truck driver and was hauling supplies, ammunition and water for the front line companies. In late December 1944, the unit was shifted into the Ardennes and Lee took time for a photo while in the town of Malmedy, Belgium. Malmedy became an area of heavy fighting during the Ardennes Offensive.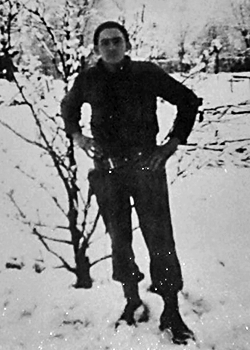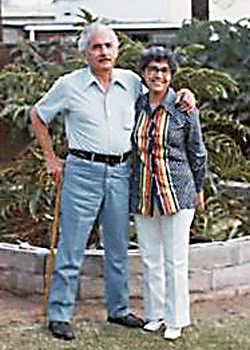 The 823rd continue to fight to eliminate the Bulge in January 1945, and then crossed the Roer River on February 24th and then the Rhine River on March 24th. Racing eastward to the Elbe River at Magdeburg in April, they began military occupation duties on April 21st.
Lee remained with the unit throughout the war and received credit for each of the unit's campaigns in Normandy, Northern France, Rhineland, Ardennes-Alsace and Central Europe. He also received the Bronze Star Medal, European-African-Middle Eastern Campaign Medal, American Campaign Medal, World War II Victory Medal and Good Conduct Medal. He left the service at the rank of Corporal.
After the war, he returned home and married the former Consuelo Arellano Lopez, they were together until her death in 1996. Lee passed away on March 31, 2008, and was buried in the Forest lawn Memorial Park in Covina Hills, California.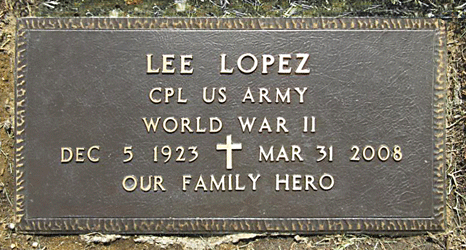 I want to thank Erwin Verholen for providing the information and photos of Lee for this tribute. The photos he supplied were actually given to him by Lee.
The photo of Lee and his wife was provided courtesy of Find a Grave contributor "Have Paws will travel". The grave marker photo was provided courtesy of Find A Grave contributer #46962063.