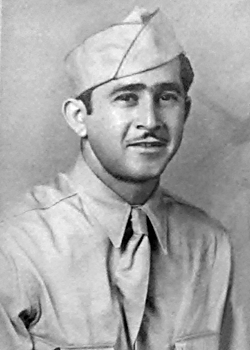 Bruno V. Lopez
Biography: Bruno V. Lopez was born on October 6, 1915, in San Antonio, Texas. He was the son of Romaldo Lopez and Maria Villarreal and attended local schools through the grammar level.
He then worked as a plumber. His enlistment record also states that he worked as a carpenter.
Service Time: Bruno entered the service on March 17, 1942, at Fort Sam Houston, Texas. He was initially sent to Camp Robinson, Arkansas, and assigned to Co. A of the 67th Infantry Training Brigade. Records indicate that he may have served briefly in a Quartermaster Battalion and trained at Fort Mason, and Camp Stoneman, in California. His military occupation is listed as Radio Operator.

On September 2nd, he was assigned to Company A of the 640th Tank Destroyer Battalion, which shipped out from the San Francisco port, on the 4th, enroute to Hawaii. They arrived at Guadalcanal on February 5, 1944, and then shipped out to New Britain on May 3, 1944. While in New Britain, Bruno was hospitalized for 10 days, with what was identified as Dengue fever, a serious virus spread by mosquitoes. His illness was serious enough to keep him for an additional 25 days while the unit was stationed in Leyte, Philippines, where they arrived on January 9, 1945.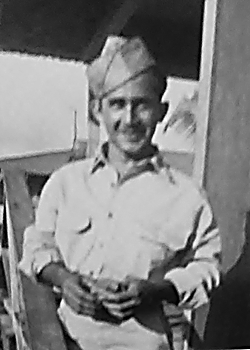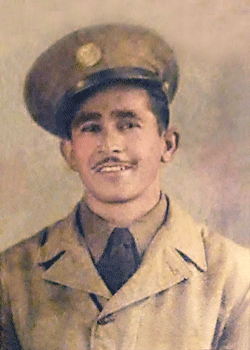 Bruno didn't share much about the war with his family but he did relate that they were inserted on a number of different islands and that they would have parties on ship before landing. The battalion would move inland, fighting along the way. The ground was littered with dead Japanese soldiers. On one occasion, Bruno's M10 was disabled and he had to escape while firing his sub-machine gun.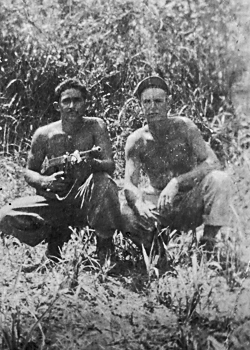 The unit received credit for the campaigns of the Bismarck Archipelago, the Eastern Mandates, Luzon and the Southern Philippines. Bruno arrived back in the U.S. on September 25, 1945. He left the service at the rank of Corporal. He was awarded the Asiatic-Pacific Campaign Medal,with credit for each of the unit's campaigns, the Philippine Liberation Medal, the WWII Victory Medal and the Good Conduct Medal.
Bruno can be seen on left in the photo on the left. He looks to be holding a Thompson Sub-Machine gun.
Now home, Bruno went back to work as a plumber. On June 29, 1946, he married the former Margarita Flores, who was born in San Antonio, Texas, and was the daughter of Ignacio Flores and Eugenia Vega. The couple would make their home in San Antonio and have 8 children, including Bruno, born in 1947, Reynaldo in 1948, Maria in 1951, Robert in 1953, Alfredo in 1955, Dora in 1957, Eugenio in 1959 and Margarita in 1961.
His family remembers him as an extremely hard worker, working from sunup to sundown to support his family. He hardly ever spoke of his time in the military but when two of his sons asked him about enlisting, during the Vietnam war, he told them he had served enough for both of them. The two would go on to serve in the military along with their third son.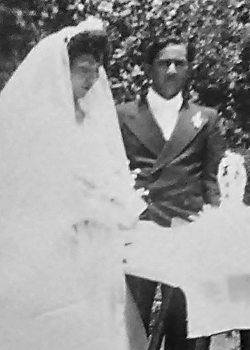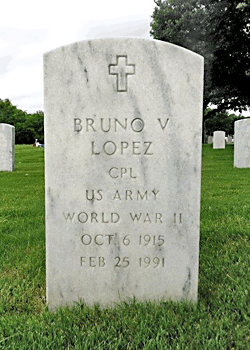 In his spare time, Bruno enjoyed fishing. He passed away on February 25, 1991, and was buried in the Fort Sam Houston Cemetery, in San Antonio, Texas. I want to thank Bruno's son, Robert, for providing the information and photos for this tribute. I also want to thank Robert for his 25 years of military service with tours in Korea, Europe, Central America and the Middle East. Thank you to Find A Grave contributor, LKat, for the use of the grave marker photo, © 2015.