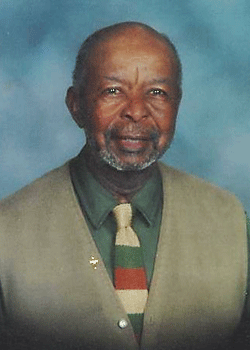 Charles C. Lane, Jr.
Biography: Charles C. Lane Jr., "Carlo", was born in Jacksonville, Florida, on August 14, 1922, to Rev. Charles C. Lane and Rebecca Allen. He had a younger brother, James. He was raised in Newtonville and Vineland, New Jersey, graduating from Vineland High School. After graduating, he moved to Philadelphia, Pennsylvania, and worked for Neiman Steel Equipment Company as a drill operator, power press operator and a spot welder. He remained employed there until he entered the military.
Service Time: Carlo entered the Army on April 16, 1943, at Fort George G. Meade in Maryland. He was eventually assigned to the 679th Tank Destroyer Battalion. The 679th was activated on June 12, 1943 at Camp Hood, Texas. On July 14th of the same year, the unit was converted to a towed 3" anti-tank gun battalion. They shipped overseas on January 10, 1945, aboard the USS Monticello, disembarking at La Havre, France on the 21st. They re-embarked on March 1 at Marseilles, France, for transfer to Italy. Landing in Leghorn, they were attached to the 92nd Infantry Division. The 679th moved to the front line near Torre Del Largo, Italy, on March 17th, firing their first rounds the next day. They supported the assault on La Spezia in April and advanced to Genoa by early May. Carlo was awarded the Good Conduct, American Campaign, EAME, with credit for the North Apennines and Po campaigns, and the WWII Victory medals. He left the Army sometime in 1946 when the 679th was de-activated.
Returning to the U.S., Carlo went back to his old job at Neiman Steel. He became active in local community elections as an Election Judge in his local 26th Division of Ward 20. He was also an active member of the Corinthian Lodge #114 of the M.W. Prince Hall Grand Hall Lodge of the Free and Accepted Masons of Pennsylvania, and as a WWII Veteran, he joined the National Tank Destroyer Association. He continued his educational pursuits and enrolled in the Booker T. Trade School, obtaining Upholstering certification, followed by subsequent enrollment and graduation from the Pennsylvania Institute of Criminology with concentrated studies in Criminology and Penology, Fingerprinting and Identification, and Scientific Crime Detection.
After receiving his diploma, Carlo left Neiman to begin his career at the United States Post Office where he worked for over thirty years, beginning as a mail clerk. After receiving continued official commendations and certificates of award for Special Achievement and Superior Accomplishment due to his contributions resulting in increased operational efficiencies in his department, Carlo advanced to Group Leader and eventually Floor Supervisor prior to retirement.
At some point, Carlo married Norma L. Covington with whom he had one daughter, and they moved to Moorestown, NJ where they lived for ten years. Upon moving to New Jersey, the family joined the Second Baptist Church and he enjoyed an active church life as a choir member and member of the Finance Committee, Trustee Board, and church volunteer. He continued to actively participate in local community and school activities including the Newcomer's Club and the local Burlington County PTA. Carlo also had a love for camping, boating, and motorcycles and enjoyed regularly attending motorcycle races with his local motorcycle club.
Upon his Civil Service retirement, Carlo moved his family to Lehigh, Florida in 1977, where he again engaged in the local, school, and church communities. He was a long-time Lee County School System-Transportation Department employee serving as a school bus driver and subsequently crossing guard, roles he enjoyed for almost twenty years. He was an ardent Riverdale High School supporter and Band Booster, always requesting special bus route assignments whenever the band or football team had travel events so that he could drive and help chaperone those Riverdale Raider activities. Even after his daughter's high school graduation from Riverdale, Carlo continued to support the school and band activities and continued to receive certificates of appreciation for his volunteer service.
As a member of First Baptist Church, Carlo volunteered in many capacities, including volunteering and serving with the church food bank, and he eagerly enjoyed any opportunity to drive the church van or bus, particularly for the Youth Group activities. When he wasn't enjoying a pot-luck dinner at church or a football game at Riverdale, Carlo spent his time as a community volunteer with REACT, helping to promote neighborhood security.
After marrying Deborah K. Childs, approximately thirty years ago, Carlo continued to enjoy the comradery of fun, friends, and fellowship. He enjoyed his daily breakfast club gatherings with the school bus drivers, and upon his retirement from the Lee County School system, he bonded with his close circle of friends, affectionately known as "The Boys", with whom he continued to enjoy his daily breakfast/brunch socials. As long as his health allowed, Carlo continued his community volunteerism, celebrated Veteran's activities, and remained active with his First Baptist Church family.
Carlo passed away on June 11, 2018. Thank you to the Lane family for the information and photo of Carlos.