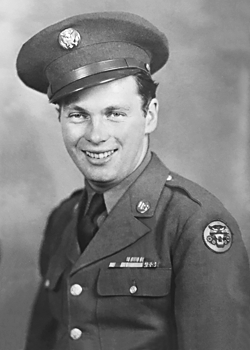 Odmund C. Lervik
Biography: Odmund Clifford Lervik "Odie" was born on November 26, 1919, on a farm, just south of Crosby, North Dakota. He was the son of Ole Martin Lervik and Mathilde Sve and attended local schools in Crosby, graduating from Crosby High School. After graduation, he worked as a stock checker and bookkeeper at the Mont Builders Supply company.
Service Time: Odie entered the service on November 21, 1941, at Fort Snelling, Minnesota. He was sent to Fort Knox, Kentucky, for his basic training and assigned to Company A of the 701st Tank Destroyer battalion. While there he trained with the unit and received special training as a motorcyclist and scout.
Odie shipped out from the U.S., on May 31, 1942, landing in Ireland with the unit, on June 11. Portions of the unit participated in the Operation Torch landings near Oran, Algeria. The rest of the battalion, including Odie, reached North Africa in November, taking part in the Tunisia campaign before shipping to Italy, in October.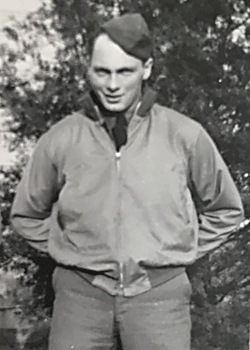 We are not sure of the details of the incident, but Odie related to his family that he had an accident with his motorcycle. In September 1943, he was shipped back to the U.S., arriving on the 22nd and would spend the next three months at the Kennedy General Hospital in Memphis, Tennessee. He was honorably discharged at the rank of Private, on December 18th with a C.C.D. (Certificate of Disability Discharge). He continued to have shaking (tremor) issues with his hands, for the rest of his life.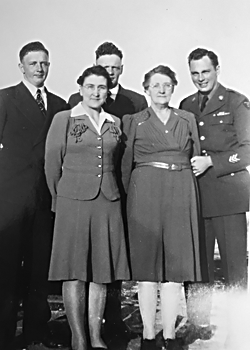 Honorable Discharge
Odie returned to Minot and to his job at the Builders Supply Company but he would begin a new stage in his life by attending Minot State College, graduating in 1949, with a teaching degree. On June 21, 1948, he married the former Ann Marie Klingenberg, who had been born in Bottineau, North Dakota and was the daughter of John Carton Klingenberg and Anna Maria Larson. He found work as a high school Social Studies teacher and coach and in his spare time, he enjoyed fishing and sports. The couple would have four children, twins Connie and Carol born in 1949, Deborah born in 1952, and Jeffry born in 1964. Odie was also a member of the VFW and the local Lutheran Church.
Odie passed away on February 8, 1995, and was buried in the Highland Cemetery in Jamestown, North Dakota. I wasn't to thank Odie's daughter Carol for providing the information, photos and documents for this tribute.