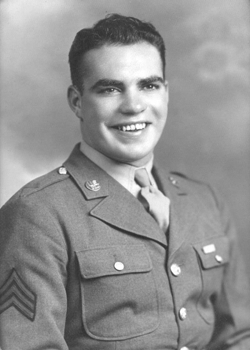 Douglas J. Lawler
Biography: Douglas Jeremiah Lawler, "Doug", was born on February 18, 1919, in Willmar, Kandiyohi County, Minnesota. He was one of seven sons and four daughters born to William Jennings Lawler and Maude Margaret Downs. His Draft Card, dated October 16, 1940, indicates he was employed by the Great Northern Railway in the Track Department at Willmar.
Service Time: Doug entered the Army on April 10, 1941. At some point, he was assigned to Company C of the 634th Tank Destroyer Battalion. The unit was originally formed as the 34th Provisional Anti-tank Battalion in August, 1941 and participated as such in the Louisiana Maneuvers that fall. The 634th was activated on December 16, 1941 at Camp Claiborne, Louisiana. In 1942, they trained at Camp Hood, Texas, and participated in the fall Louisiana Maneuvers before returning to Camp Claiborne.
In 1943, they were equipped with the M10 Tank Destroyer. They shipped to England on December 29th, arriving on January 10, 1944. While there, they received additional training before landing on Utah Beach in Normandy, France, on June 30th. They were committed to battle on July 10th near Carentan and participated in the Cobra breakout in late July. Their widely separated elements helped capture Mayenne and defeat the Mortain counteroffensive in early August. The 634th then raced east to Mons, Belgium, and supported operations against the Siegfried Line and the capture of Aachen, Germany, in October. Staff Sergeant Lawler was wounded in action on September 4, 1944 in Belgium.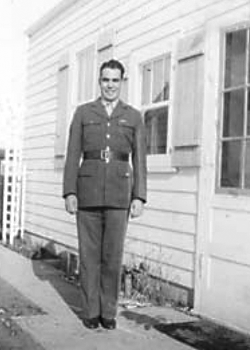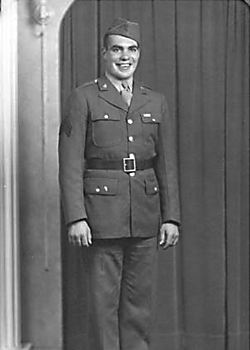 The unit then fought in the Hürtgen Forest in November, where Doug was wounded a 2nd time on November 19th in Hamich, Germany, while Company C was engaged in destroying German tanks and holding the town against great odds. He was awarded a Bronze Star for this campaign.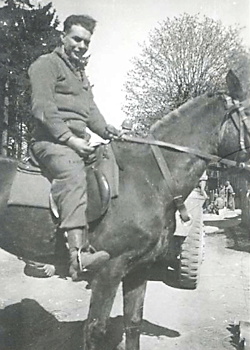 The 634th moved back to Belgium in December, only to race south to the Ardennes in late December. They crossed the Roer River on February 25th and pushed to the Rhine River at Bonn, Germany, by March 9th. The 634th crossed the river at Remagen, Germany, on March 15th and supported the envelopment of the Ruhr Pocket. Their last action included driving east to the Harz Mountains in early April. Doug was awarded a Silver Star Medal for gallantry in action on April 18, 1945, when he drove his tank destroyer to draw enemy fire and then proceeded to destroy enemy tanks. They then drove an additional 200 miles to the Czechoslovak border by the end of the month.
In addition to the previously mentioned medals Doug was awarded, he also received the Good Conduct, WWII Victory and the EAME medals with credit for the campaigns of Normandy, Northern France, Rhineland, Ardennes Alsace and Central Europe, two Purple Hearts and a 2nd Bronze Star (Oak Leaf Cluster) for meritorious service in the ETO during the period July 25th through December 10th, 1944. He returned to the U.S. on June 26th, and was discharged at the rank of Staff Sergeant on July 13th, 1945, at Fort Snelling, MN.
Following his return home, Doug married the former Myrtle Lillian Hansen on October 30, 1947 in Kandiyohi County, MN. She was the daughter of Ellef Hansen and Johanna Sorenson. We don't have any information on Doug's life following his marriage. He passed away on November 20, 2002 and was buried in the Saint Mary's Cemetery in Willmar, MN.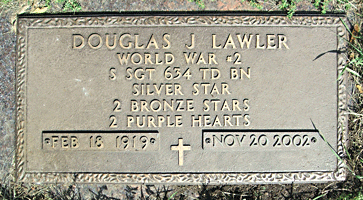 We would like to thank Jon Linstrand, whose collection of WWII materials provided both photos and information for this tribute. Jon has a large collection of military items, covering all branches of the service and includes pre-WWI to the current War on Terror. It goes beyond just items, since he has had the opportunity to interview over 500 veterans himself and creates displays and programs to share his collection with the the public. You can find out more about Jon and his collection at this link. We would also like to thank Find a Grave contributor Ron Keith for use of the grave marker photo.