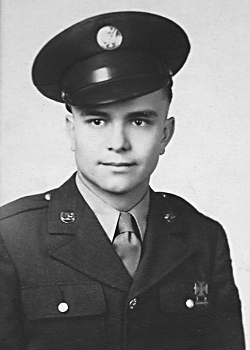 James R. LeVesque
Biography: James Ray LeVesque, "Jim", was born on April 26, 1924, in Escanaba, Michigan, which is on the west side of Lake Michigan. He was the son of Damascus LeVesque and Lillian Perron and attended Schaffer School followed by Escanaba High school, graduating in 1942. He had done some farm work and worked for the railroad but his enlistment record indicates that he had also worked as an entry clerk for some period.
Service Time: Jim entered the service on April 6, 1943, at Fort Custer, MI, and would do his basic training there as well. He was then sent to Camp Hood, Texas for advanced training in the Tank Destroyers. He was assigned to Company B of the 658th Tank Destroyer Battalion and trained with them in anticipation of being shipped to the African or European theater.
On April 15, 1944, while the unit was stationed at Fort Ord, CA, it was redesignated as the 658th Amphibian Tractor Battalion and began training with AmTrac vehicles and for island warfare. Jim received training to drive the new units. They sailed from the San Francisco Port of Embarkation on September 23th, and landed in New Guinea on October 17th. They proceeded to New Britain I, arriving later that same month on the 28th and then landing in the Lingayen Gulf, Philippines on January 9, 1945.
From there it was off to Palawan I, landing on February 28th and then Zamboanga, Mindanao, on March 10th. They moved again and landed on Cebu I on March 26th, and then Sanga Sanga I on April 2nd and Jolo I on the 9th and Malabang, Mindanao, on the 17th, finally landing in Macajalar Bay, Philippines, on May 10th. They remained there until being ordered back to the U.S., arriving at the San Francisco Port on January 13, 1946. The unit was deactivated two days later at Camp Stoneman, CA on the 15th.
Jim received credit for three of the unit's campaigns including Bismarck Archipelago, Luzon and Southern Philippines. He took part in the liberation of the Philippines and received the Philippine Liberation Medal with two battle stars in addition to the WWII Victory, American Campaign, Asiatic-Pacific Theater and Good Conduct medals.
He left the service on January 26, 1946, at Fort Sheridan at the rank of Technician 5th Grade.
Now back in the U.S., Jim worked for the John Bean Corporation in Lansing, MI, and then worked as an attendant at the Traverse City State Hospital for 18 years. The family moved to Menominee in 1967, and purchased the Harbor House Motel and Texaco Gas Station. After selling the motel and gas station, Jim managed the Kentucky Fried Chicken in Marinette, Wisconsin and Menominee, MI, and retired from LE Jones, a valve seat manufacturer, located in Menominee.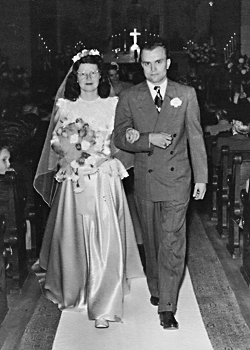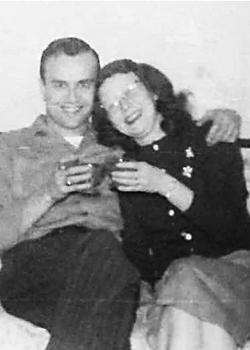 On October 16, 1948, Jim married the former Donna Jean Gunderson who was born in Ironwood, MI, and was the daughter of Paul Rikard and Alice Amelia Miller. The new couple would make their home in Traverse, MI, and have two children, Cindy, born in 1953, and Andrew in 1962. In his spare time, Jim enjoyed reading and golf and was a member of the VFW, and their subsidiary Cooties organization, the Elks and the Lions Club. Jim moved to lower Michigan in 2008 to be closer to his family.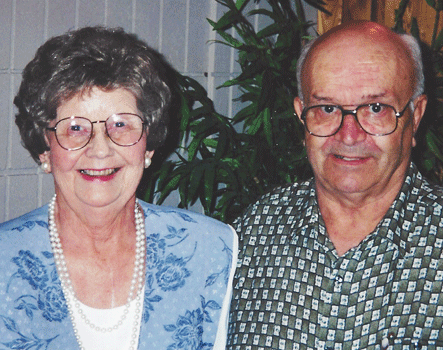 The photo shown at left is Jim and Donna on the occasion of their 50th Wedding Anniversary.
Jim passed away on February 14, 2022, and was buried in the Riverside Cemetery in Menominee, Michigan.
I want to thank Jim's friend Mike Arnold and Jim's daughter Cindy, for providing information and photos for this tribute.
The photo below is Jim at the age of 96.