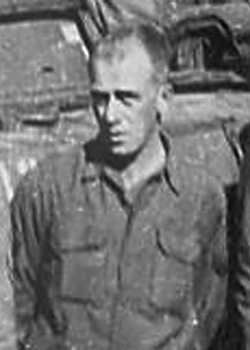 Bernard R. Lanthier

Biography: Bernard R. Lanthier, "Bernie", was born in Montreal, Canada, on July 5, 1921. He was the son of George Lanthier and Elizabeth Bonnin and his family moved to the U.S. on August 10th 1925, when Bernie was 4 years old.
Bernie graduated from St. Bernard's High School in Fitchburg, Massachusetts and over the years, traveled back and forth between Canada and the U.S., working on farms owned by his distant relatives.
Service Time: On September 29, 1942, Bernie joined the U.S. Army, when he was 21. After his basic training, he was ultimately assigned to the headquarters Company of the 825th Tank Destroyer Battalion and continued his training with them at various military facilities, including Camp Hood, Texas, and briefly at Camp Phillips, Kansas, before shipping to Devils Lake, North Dakota, to assist with the record wheat harvest. It was during his time in the U.S. that he received additional training and served as a heavy truck driver and qualified as an expert gunner.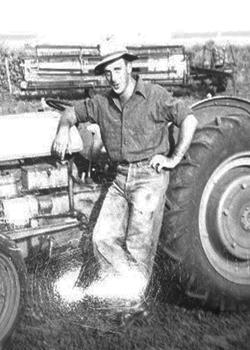 The photo at left was taken on August 22, 1943, in New Rockford, North Dakota, while the 825th was in the area harvesting the wheat crop.
The unit participated in the Tennessee maneuvers from November 9, 1943, to January 15, 1944, before moving to Camp Campbell and later, Camp Breckenridge, both in Kentucky. From there, they boarded trains for movement to Camp Kilmer, New Jersey, to make final preparations for the trip overseas. They shipped out from the New York port on May 30, arriving in England on June 5th.
On July 30th, the men finally went ashore at Utah Beach in Normandy, France where the unit was assigned to the Communications Zone and 12th Army Group security duties between August and December, 1944. On December 17th, the battalion entered combat near Malmedy, Belgium, returning to security duties on January 16, 1945.
Bernie received credit for campaigns in Northern France, Rhineland, the Ardennes and Central Europe and was awarded the European African Middle Eastern Campaign Medal, the WWII Victory and the Good Conduct Medals. He left the service on December 7, 1945, at the rank of Technician 5th Grade.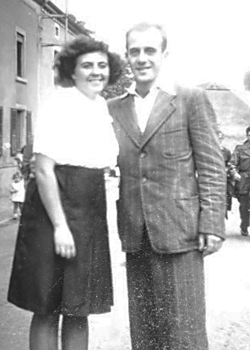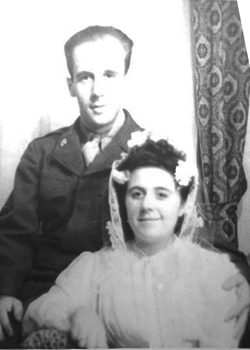 While on occupational duty and stationed in the Grand Duchy of Luxembourg, Bernie met Juliette M. Krecke and the two were married on September 24, 1945, in Luxembourg. Bernie shipped home in December and Juliette would follow like many other war brides on a former cruise ship, the MS Vulcania. After arriving at Ellis Island, Juliette became a U.S. citizen and the couple had a second marriage ceremony, making their residence in Fitchburg, MA. The couple later moved to Waltham, MA, and had five children, four sons and a daughter. The family's final residence was in Billerica, MA.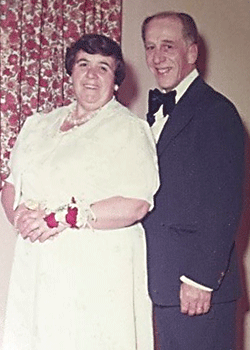 Bernie worked in Boston as a paper cutter and Juliette worked as a foreign language substitute teacher. The entire family enjoyed visiting their beach house over the summer, which was located in Hampton Beach, New Hampshire. They also traveled between the U.S. and Canada often and Bernie was an avid sports fan, enjoying the Boston Bruins hockey team and the Boston Red Sox baseball team.
Bernie passed away on June 24, 1982, just two weeks before his 60th birthday. At the time of his death, he and Juliette had been married for 37 years. Juliette died in October of 2013, at the age of 94, and the couple were buried in Billerica, MA. As was his final wish, Bernie was buried in his WWII Army uniform.
I want to thank Bernie's daughter, Lauray, for providing the information and photos used in this tribute. Thank you to Serge Lemaire for the main photo of Bernie.