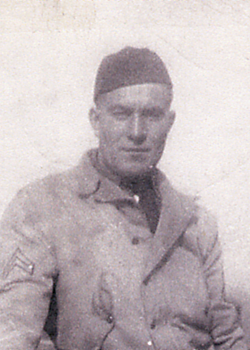 Harold W. Libby
Biography: Harold was born on Nov. 27, 1919 in Peoria County. IL. He was the eight child of nine born to Bert and Clara Shull Libby. Bert was the son of Mathew and Elizabeth Libby and Clara was the daughter of Jonathan and Georgiana Shull. At the time of his birth, his parents were working a farm owned by John Whitaker near Laura, IL. Harold attended schools in Garrison, Laura, Elmwood and Elmore. He started working away from his parents for his brother John for only his room and board. By the time he was 19, he was still farming but now he made $35.00 a month plus room and board.
Service Time: Harold joined the Army on July 23, 1940 in Peoria, IL and was sent to Ft. Lewis, WA for his basic training. From there it was off to Ft. Ord, CA for infantry training and then back to Ft. Lewis where the 603rd Tank Destroyer Battalion was formed from the antitank platoons of the 3rd Infantry Div. in December of 1941. Harold would join the 603rd and be placed in Company B, and go with the unit to Fort Hood, TX in 1942 and then onto other locations for additional training and maneuvers; Camp Polk in Louisiana, Camp Pickett in Virginia, Fort Maxey in Texas and then to Camp Kilmore for final preparations before shipping to the UK on the Queen Mary. Harold would serve with the unit throughout its time in Europe landing at Normandy, and seeing action in Brittany and Operation Cobra moving onto Brest, France. They would continue on with the Third Army in the Lorraine Campaign and up to the Saar River, then being involved with the counterattack of the Battle of the Bulge. From there they were on to the Siegfried Line and the Rhine River and the Filda Gap. The unit helped liberate Buchenwald Concentration Camp in mid April. Harold reached the rank of Staff Sergeant and was the Platoon Sergeant over four tank destroyers and 30 enlisted men. He received numerous awards including (2) Purple Hearts, a Bronze Star w/Oak Leaf Cluster and a Silver Star for Gallantry in Action occurring on April 3, 1945. He returned to the states on June 15, 1945 aboard a Liberty Ship, landing in Boston Harbor. He then traveled to Fort Sheridan, Illlinois for discharge.
After returning from the service, Harold married the former Eleanor Viola Riggen on July 11, 1945. She was the daughter of Benjamin A. and Hazel A. Chapman Riggen. The new family would have four children, Joann C. in June of 1946, Richard A. in May of 1950, Brenda L. in May of 1957 and Cheryl A. in July of 1962. The family lived in the Toulan and Victoria areas of Illinois and Harold worked as a farmer. He enjoyed hunting, fishing, pitching horse shoes, woodworking and gardening. He even played baseball for the first few years of his marriage. He also loved his dogs. Harold was a member of the Kewanee, IL VFW Post 8078, the Toulon United Methodist Church and the Stark County Farm Bureau. Harold was also involved with the reunions of the 603rd, which began in June of 1977 and continued until June of 1998.
Harold passed away on Feb. 24, 1993 and was buried in the West Jersey Cemetery.
1.) Silver Star Award – General Order # 143, May 30, 1945.
2.) Laura Soldier Awarded Star – Newspaper Article
Photo shows Sergeant Libby receiving his Bronze Star on January 30, 1945 from Maj. Gen. Robert W. Grow, Commanding General of the 6th Armored Division.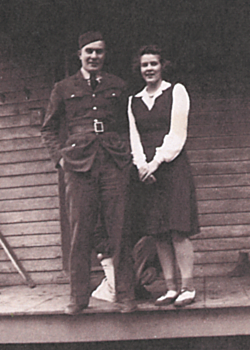 Shown in the photo above are Harold and his sister Leatha while he was on furlough.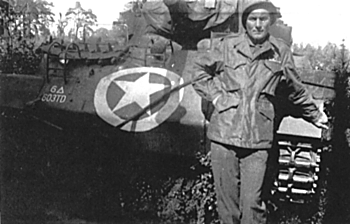 Harold and one of his M18 Tank Destroyers. Notice the 6th Armored markings on the left front of the TD. The 603rd was attached to the 6th Armored through much of their time in Europe.