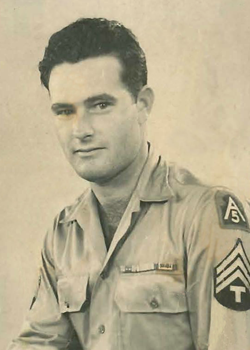 Cecil H. Lunsford
Biography: Cecil Herbert Lunsford was born on October 25, 1920 in Americus Georgia to William Joseph and Louella Hart Lunsford. He attended Lynnwood Grade School in Fitzgerald, GA.
Service Time: Cecil was assigned to Company B of the 894th Tank Destroyer Battalion and is listed in their 1941 Christmas roster. He stayed with the unit throughout the war receiving the European-African-Middle-Eastern Theatre Ribbon with five Bronze Battle Stars and the WWII Victory Medal. Cecil would stay in the Army and receive his GED in 1948 as well as go on to serve in the Korean War reaching the rank of Staff Sergeant in his 20 year career. He received the Korean Service Medal with 1 Silver and 1 Bronze Service Star.
Cecil met his future wife in Italy and married the former Floria Giacometti in 1945. She was born in Viareggio, Italy and was the daughter of Salvatore and Vittoria Giacometti. The couple would stay in Viareggio and have three children, Carlo, Victor and Gloria. Over Cecil's time in the military, the family would live in many places. Ultimately Carlo would reside in the UK, Gloria in Italy and Victor in the U.S.
After his time in the service, Cecil worked as a music store clerk and a machine operator but in his spare time, he enjoyed fishing, electronics and photography as well as stamp and coin collecting. He was also a member of the VFW.
Cecil passed away in July of 1977 and was buried in Viareggio, Italy.
I want to thank Cecil's son Victor for providing the information and photo of his dad. A photo of Cecil's wife Floria is shown below as well as a shot from his time in Korea.