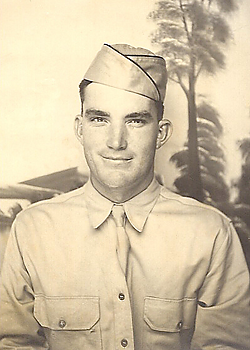 Tommie F. Lynch
Biography: Tommie Frances Lynch was born October 7, 1919, in Laverty, Grady County, Oklahoma, to Thomas J. Lynch and Daisy Lee Johnson. He attended school in Laverty and completed his education at Pioneer High School. Tommie was a farmer by trade. He went into the Civilian Conservation Corps for a period of time before entering the service.
Service Time: Tommie joined the U.S. Army on Oct. 5, 1941, and spent time at Indio, California, where he participated in desert training at the Joshua Tree National Monument. On Dec. 15, 1941, Tommie was assigned to Co. B of the 773rd Tank Destroyer Battalion. The unit trained at Camp Shelby, Mississippi; Camp Young, Indio, CA; Camp Hood, Texas and Camp Atterbury, Indiana. On Jan. 15, 1944, they shipped out to England. The Battalion continued to train and perform support duties for troops passing through on their way to combat. On Aug. 7, 1944, the 773rd crossed the English Channel where they fought and worked their way across France, Luxembourg, Germany and Czechoslovakia. Tommie would be wounded twice during his time with the Battalion.
The only information we have about Tommie is from personal letters while he was in England, Luxembourg, and Germany and what little could be reconstructed through the much appreciated efforts of the military. The first time Tommie was injured he was in several hospitals, the last of which was believed to be in England, for 28 days. According to Leroy Lynch, Tommie's brother, when he became bored with being in the hospital, he checked himself out, crossed the English Channel and rejoined his Battalion where he was wounded a second time. The Hospital Admission Card data files for 1942-1945, indicate Tommie was admitted to the hospital on 15 Jan, 1945, for Artillery Shell fragments (shrapnel) in his chin.
General Order 250 – Silver Star Citation

Tommie indicates in a letter home that this is the second time he was wounded. In early 1945, Tommie was sent home to Chickasha, OK, and assigned to Borden General Hospital. On March 4, 1945, he was given 30-day leave, and on Mar. 27th, Tommie was tragically killed in an automobile accident. He achieved the rank of Technician Grade 5 and received credit for the campaigns of Northern France, Rhineland, Ardennes-Alsace and Central Europe. His decorations include the Silver Star, for gallantry in action against an armed enemy of the United States (Tommie remained with his tank firing off all remaining rounds allowing his unit to escape), a Purple Heart with Bronze Oak Leaf Cluster (denotes second Purple Heart awarded) along with the Army Good Conduct, American Defense, American Campaign, European-African-Middle Eastern Campaign and WW II Victory medals.
I want to thank Tommie's niece, Cindy Russell, for providing the photographs and information used in this tribute.