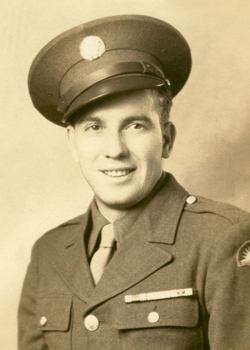 Claude F Lyons
Biography: Claude F. Lyons was born on June 28, 1920 in Ashland, KY. He was the son of William Fredric Lyons and Elva May Kash. William was born in 1888 and served in the Navy during WWI. He was buried in the Woodland Cemetery in Coal Grove. Tragically in 1925, five years after Claude's birth, Elva wound die in a house fire while the family lived in South Point, OH. It was a difficult time for the Lyons family and Claude's father William wasn't able to support them. With Claude being five and having two younger sisters, they were all sent to live with their mother's family, the children's elderly grandparents, Mama and Papa Kash. The children also spent time with their mother's sister Thelma Brace. The Brace's owned and ran the largest dairy farm in Lawrence County, Ohio so they were able to help support the children.
Claude attended public school in Lick Creek and after leaving school, he went into farming, eventually owning his own farm. The following is a photo of Claude at the age of 15 as part of the 1935 Lawrence County Championship Basketball team.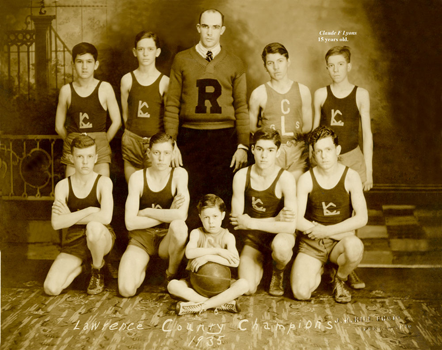 Service Time: Claude entered the service on Oct. 7, 1941 at Huntington West Virginia while living in Lawrence County, Ohio. He was assigned to the 41st Infantry Division which would yield some of it's members to form the new 641st Tank Destroyer Battalion. The 641st was shipped to New Guinea via Australia and the Panama Canal from New York. Claude would be stationed in Australia from at least April 22, 1942 till Jan. 21, 1943 but he would ship back to the states, arriving on Sep. 18, 1944. The 641st entered combat on May, 1944 but was re-designated as the 98th Chemical Mortar Battalion on Jun. 24, 1944 after Claude had already been separated from the unit. The photo below shows Claude while stationed in Australia.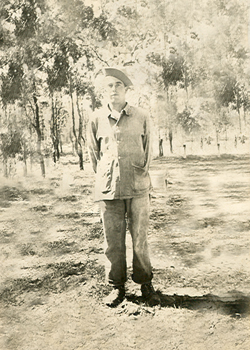 At some point Claude was injured and spent time in a hospital in New Guinea. While there he wrote a poem to his grandmother Mrs. Frank "Mama" Kash, which ended up in the newspaper. When he returned to the states, he spent time in the hospital at the Presidio of San Francisco, CA. While there he sent a V-Mail note on Nov. 7, 1943 to the Brace family wishing them a Merry Christmas and telling them not to worry.
Claude returned from the war to marry the former Erma Aileen Massie on Nov. 15, 1944. Erma was the daughter of Andrew and Stella Massie of Ironton, Ohio. Together the couple would have three children, Sharron born in 1948, Gary born in 1951 and Cathy born in 1953. The couple eventually divorced and Claude would marry again on Feb. 2, 1955 to the former Anna Ruth Clark. She was the daughter of Grady Clark and Maxi May Roop of Prestonsburg, KY. Anna was actually born at home in a brandy keg. This new couple would reside in Coal Grove, Ohio and have three children also. Claude Jr, born in 1955, Paula born in 1960 and Charles born in 1965.
Claude had resumed farming upon his return to the U.S. but only until he got a job at Armco Steel Company, now called AK Steel, in Ashland KY. He worked as an overhead crane operator for 25 years until he retired. Claude enjoyed spending time as a Boy Scout Leader and did both handyman and electrical work in his spare time. He was a trustee at the Main Street Baptist church in Coal grove and member in the American Legion and VFW in Ironton. He was also a member of the Lions Club in Coal Grove.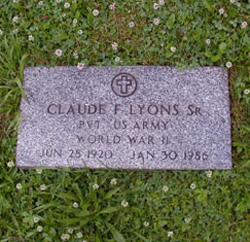 Claude passed away on Jan. 30, 1986 and was buried in the family lot in the Community Cemetery in Deering, Ohio.
I want to thank Claude's son Charles for providing this information.