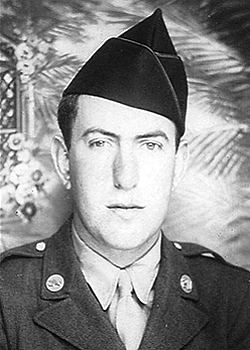 Melvin Lavin
Biography: Mel Lavin was born on September 29, 1925 in Springfield, MA. He was the son of Abraham Lavin and Sarah Politz and attended Classical High School before going on to the University of Massachusetts. Unfortunately his country called before he had completed his first year there.
Service Time: Mel was drafted into the service on Jan. 4, 1944 and was sent off to Fort Devens, MA for processing. He was asked if he wanted to be in the Air Force but he had never flown in a plane and wasn't about to start now. He was then sent to Camp Hood, TX where he was immediately placed in the 824th Tank Destroyer Battalion (See photo links below). He served in a gun crew of Company B, with the unit's 3 inch towed guns until they were converted to self-propelled M18 Hellcats and he chose to move into their Reconnaissance Company. He was with the unit throughout their time in Europe which ended in Austria. He returned to the states fully believing they were shipping out for the invasion of Japan until the Atomic Bombs were dropped and the unit was deactivated soon thereafter at Fort Jackson, SC. Mel was sent to Fort Devens, MA until he had enough points to get out. It was nice because he was so close to home. He had reached the rank of T5.
RTC 140 A Group – This link is to a PDF photo of a training group Mel was in, possibly at Ft. Bliss, TX. They went there for anti-aircraft training, which involved firing machine guns at a small plane towing a target. Mel is shown in the back row to the immediate right of the flag. The PDF includes a second page containing the names of the other men on the photo.
Company B, 824th TD Bn. – Mel also provided a large landscape shot of his unit while stationed at Camp Hood. I have marked Mel with a red arrow.
After Mel was discharged, he went right back to college and majored in Chemistry with a minor in Engineering. He met his future wife, Florence Bernice Gordon, at college and they were married on January 7, 1951. Florence was the daughter of Irving and Rose Gordon also of Springfield. Together the couple would build a house in Longmeadow, MA and have three children, Robert, Linda and Kenneth. Mel worked in sales and marketing for a corrugated cardboard manufacturer and stayed with the company until he retired 45 years later. At the time of my conversation with Mel, he had 7 grandchildren.
In his spare time, Mel enjoys staying on top of news and world events and is also a member of the Temple Beth El Synagogue in Springfield, MA.
I want to thank Mel for his service to this country and taking the time to speak with me about his experiences during WWII. I wish Mel and every veteran a long and prosperous life.