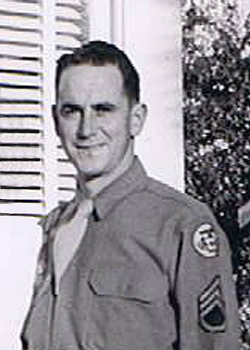 Joseph G. La Puma
Biography: Joseph George La Puma was born on January 31, 1909. He was born in New York City, NY and attended the UCLA Extension prior to becoming a Stock Broker. He married Dorothy Lansdowne who was the daughter of Percy and Kathleen Lansdowne of New York City. The couple made their residence in California.
Service Time: Joseph entered the service at Fort MacArthur in San Pedro, CA on April 8. 1944. He was assigned to the tank destroyers at Camp Hood and remained there as part of the Tank Destroyer Replacement Training Center's training personnel. He remained in that capacity until Oct. 11, 1945 when he was transferred to Camp Roberts, CA. He would reach the rank of Staff Sergeant.
After the war, Joseph continued his career as a stock broker and was a member of the Los Angeles Stock Analyst Association. In his spare time, he enjoyed photography including his time at Camp Hood. He passed away on January 30, 1997.