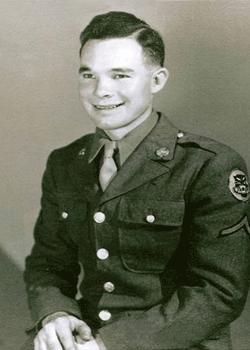 Kent A. Lee
Biography: Kent Anderson Lee was born on April 6, 1923, in Monroe, Sevier County, Utah. He was the son of Orson Ardell Lee and Ruth Anderson and graduated from local schools. His enlistment record states that prior to the war, he worked as a wholesale manager.
Service Time: Kent entered the service on January 9, 1943, at Fort Douglas in Salt Lake City, Utah. He reported for duty on the 16th, because on the 13th, he married the former Yuzella Colby. She was from Siguard, Utah, and was the daughter of Jacob Elisha Colby and Martha Etta Robinson.
The 823rd shipped out from the Boston port on April 6, 1944. They arrived in England on the 17th, and after some additional training and preparation for the channel crossing, they boarded transports and landed at Omaha Beach on June 24th. They were equipped with towed 3-inch guns and supported the drive on St. Lô and then fought at Mortain in August.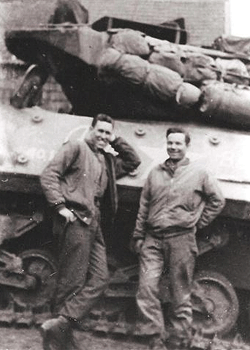 Passing through Belgium and Holland, they entered Germany on September 17th and fought along the Siegfried Line in October. Their actions included the encirclement of Aachen. The unit then converted to M10's beginning in November and shifted to the Ardennes in late December. They fought to eliminate the Bulge in January 1945, and crossed the Roer River on February 24 and then the Rhine on March 24th.
In the photo at left, you can see Kent on the right in front of one of the unit's M10s.
Their final movement was eastward to the Elbe River, which they reached at Magdeburg in April. They began military occupation duties on April 21st. The unit received credit for five campaigns, including Normandy, Northern France, Rhineland, Ardennes-Alsace and Central Europe.
There is limited information on Kent after the war but sources indicate that he returned to Monroe County and his wife, Yuzella. The couple had five children, Karen, born in 1945, John in 1948, Lorainne in 1949, Virginia in 1951 and Douglas in 1956. As of 1993, Kent was living in Richfield.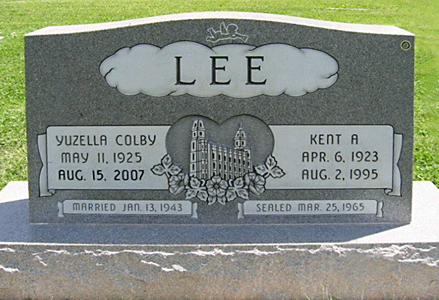 Kent passed away on August 2, 1995, and was buried in the Monroe City Cemetery.
The information and military photos for this Honoree page were provided courtesy of the 30th Infantry Division "Old Hickory" website and Chip Henneman of the WWII Era Preservation Society. The grave marker photio was provided courtesy of Kris da Roza.