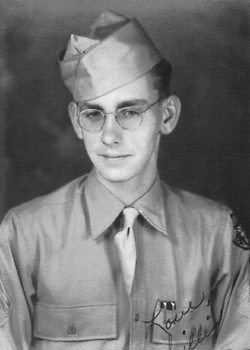 Willis C. LaRue
Biography: Willis Clement LaRue was born in Bath County, Virginia, on December 29, 1921. He was the son of Everette and Ethel Rusmimel LaRue and attended local schools through the 11th grade. After leaving school, Willis worked at his father's service station prior to entering the service.
Service Time: Willis joined the Army on December 29, 1942, and was assigned to Company B of the 817th Tank Destroyer Battalion. His specialty was communications, which he performed within B Company's Command Platoon. He later told his wife of the many miles of communication wire that he had laid.

After arriving in France, the 817th initially took up rear-area security duties but then entered combat in the Hurtgen Forest. They were then moved into the Ardennes and used as artillery at the Roer. It is noted that they were the only towed TD battalion to enter the Remagen bridgehead. The unit received credit for three campaigns including, Northern France, Rhineland and Central Europe. Willis additionally received the Good Conduct Medal, American Campaign Medal, EAME Medal, and American Victory Medal. He left the service at the rank of Staff Sergeant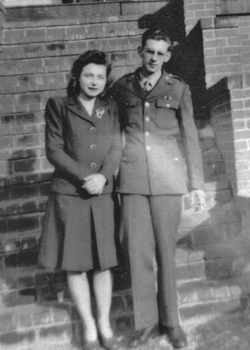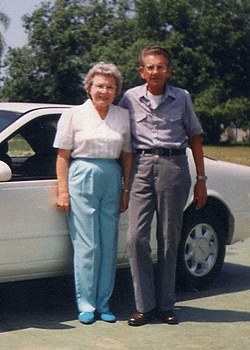 After Willis returned to the U.S., he married Hazel and took her to Florida for their honeymoon. The couple made their residence in Covington, VA, and then East Rainelle, West Virginia. Willis worked at the Carper Parts Company, in West Virginia, which was owned by his father-in-law. The couple stayed in East Rainelle until 1956 when they moved to Melbourne, Florida. While in Melbourne, Willis worked for the Genuine Parts Company until the 1960's, when he worked for Brevard County in their auto parts facility. It was during that time that they moved to Malabar, Florida, and remained there after he retired in the 1980's. The photo shown on the left is of Willis and Hazel, prior to their marriage. The right photo is the couple in 1994.

In his spare time, Willis enjoyed model cars and fishing and actually built his own 18 foot boat, which he had a chance to use during his retirement. The couple also had a love for cats and shared their home with a few.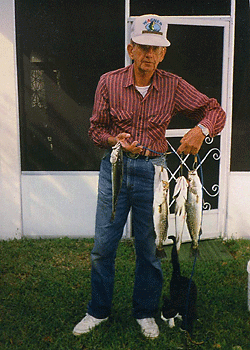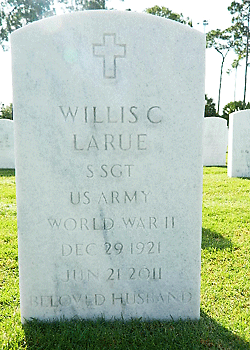 The photo to the left, shows Willis with the days catch of fish along with his favorite cat who I'm sure is wondering if he'll get part of that catch.

Willis passed away on June 21, 2011, and was buried in the South Florida National Cemetery in Lake Worth, Florida. At the time of his death, Willis and Hazel had been married for 63 happy years. I want to thank Hazel for providing the information and photos for this write-up.
I want to give a special thank you to Jerry Imperio who purchased Willis' uniform and saw the need to honor this veteran. He not only contacted this site but did the necessary research to make this tribute possible. Appreciation also to Ingrid Holzwarth who assisted with the technical issues of sharing the materials. You can see both Jerry and Ingrid, along with Willis' uniform, in the photo below.