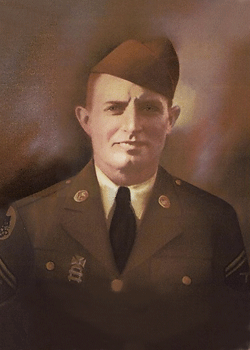 Willie W. Lynn
Biography: Willie War Lynn was born on December 6, 1913, in Nuavoo, Alabama. He was the son of John W. Lynn and Mandy Tine Bird who was the daughter of a full-blooded Cherokee Princess. Willie attended local schools receiving a grammar education before going to work as a sharecropper and coal miner. He was known to have plowed 40 acres in a day, barefoot with only a mule.
Service Time: Willie entered the service on February 20, 1942, at Fort McPherson in Atlanta, Georgia. He was assigned to A Company of the 605th Tank Destroyer Battalion, which landed at Le Harve, France, on January 26, 1945, entering battle near Tevern, Germany. They would cross the Roer and join the drive to the Rhine before being deployed at the Remagen Bridgehead in March.
The 605th was then moved to support British forces in Belgium and quickly attached to the 17th Airborne to cross the Rhine later that same month. They went on to participate in the reduction of the Ruhr Pocket in April and crossed the Elbe at Bleckede. Willie left the service at the rank of Sergeant.
After returning to the states, Willie made his home in Hamilton, Alabama and worked as a security guard and a County Commissioner. He married Claudie Mae Roberson who was the daughter of Claude and Davis Roberson. The couple would have one child, Kem, born in 1956.
He smoked Prince Albert, hand rolled cigarettes, several times a day. Gardening was Willie's passion and he loved gardens and spoke many times of the beautiful farms, he had seen in France. The last few years of his life, he enjoyed watching Wheel of Fortune every night, and taking an occasional smoke break. Willie was almost deaf from his time in the service, so there wasn't much talking but he still played many games of cards with his grandson Matthew.
Willie passed away on May 6, 1997, and was buried in Springplace Cemetary, near his birthplace in Nauvoo, Alabama. I want to thank Matthew for his assistance with this write-up and his work to preserve and honor the men of the 605th.