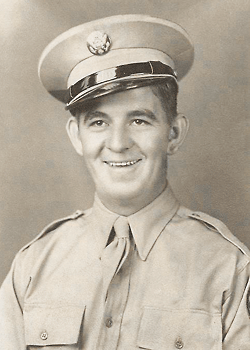 Clarence T. Leddy
Biography: Clarence Thomas Leddy was born on April 9, 1922, in Mill Creek (St. Clair, Schuylkill County) Pennsylvania. He was the son of James Leddy and Susan McCullion and attended school in St. Clair through the 11th grade. He worked as a grocery clerk prior to his entry into the Army.
Service Time: Clarence entered the service on December 30, 1942, at Allentown, PA. He was assigned to the Reconaissance Company of the 819th Tank Destroyer Battalion, which served in the Pacific Theater of Operations. They shipped out from San Francisco in March of 1944 and landed in Hawaii later that month. They then shipped to Palau in early 1945 and received credit for the Western Pacific (Peleiu) Campaign. Clarence is thought to have left the service at the rank of Pfc.
Clarence returned to the U.S. and went to work as a railroad mechanic for the Penn Central Railroad, the Reading Railroad and Conrail. On June 28, 1952, he married the former Ruth Naomi Dixon, who was the daughter of Francis and Ruth Dixon. Ruth was born in Llewellyn, PA, which is where the couple made their home. They had three children, Carol, born in 1953, Kevin in 1958 and Lisa in 1964.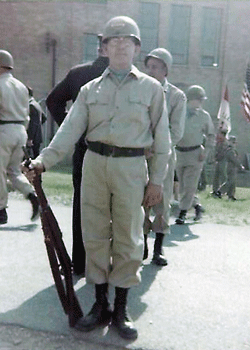 Clarence coached little league for a number of years and was a Charter Member and actively involved with the AMVETS, Post 211, in Llewellyn. He developed a work related illness and was forced to stop working in the fall of 1981. He officially retired on April 9, 1982, and succumbed to the disease a few days later on April 15, 1982. He was buried in the Mount Peace Cemetery in Minersville, PA.
The photo to the left shows Clarence participating in an Honor Guard for Memorial Day, which he did each year throughout the 60s and 70s.
I want to thank Clarence's son, Kevin, for supplying the information in this tribute.