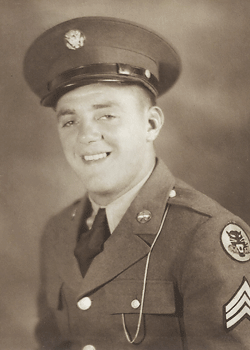 George F. Lucas, Jr.
Biography: George Fredrick Lucas Jr. was born on November 1, 1919, in Beaverdale, Pennsylvania. He was the son of George F. Lucas (Lukas) Sr. and Juliana Dolinich. He went to St. Gabriel Catholic Grade School on California Ave. in north Pittsburgh and then attended Allegany Vocational School afterwards in the same area.
George married Margaret Malay on February 7, 1942, in Pittsburgh, PA. She was the daughter of Fedor Mlej (aka Frank Mlay) and Maria Zan, both of whom immigrated to the United States, thru Ellis Island, from their homeland in the former Austro-Hungarian Empire. The couple made their home in Pittsburgh and had two children, George F. Lucas III and Margaret Ann.
Service Time: George entered the Army on May 18, 1942, at Pittsburgh. He was ultimately assigned to Company C of the 814th Tank Destroyer Battalion and served as a Platoon Sergeant in charge of four tank destroyers and their crews. The unit landed at Utah Beach beginning August 8, drove across France that month and fought in the Metz area in September. They supported the drive to the Roer River in October and later were ordered to the Ardennes with the 7th Armored Division in response to the massive German attack known as the Battle of the Bulge. Operations against the West Wall were supported in February, 1945 and they crossed the Rhine River in late March. After fighting in the Ruhr Pocket in April, they drove to the Elbe River, crossing it and reaching the Baltic Coast on May 3, 1945.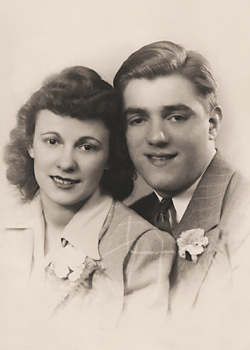 George was wounded twice, once on December 28, 1944 and again on May 7, 1945. He earned the following awards and medals: Bronze Star, Purple Heart, Good Conduct and the EAME w/4 bronze stars for the Northern France, Rhineland, the Ardennes and Central Europe Campaigns. He left the service on October 26, 1945, at Indian Town Gap Military Reservation as a Staff Sergeant.
Honorable Discharge and Separation Report
Post-service Time: After returning home, George worked for a time at American Standard in Woods Run and also at McKinney Hinge in Pittsburgh. It's believed he also worked making deliveries part-time for Auerbach Furniture while he was at American Standard. In addition, he managed the Chapel Hill Apartment Complex in Ross Township for 30 years. George was a member of St. Teresa of Avila Church, the West View VFW Post #2754 and the Slovak Club on the North Side.
Margaret passed away on July 27, 1983 and George on October 11, 2002. They are buried together in the Christ Our Redeemer Catholic Cemetery in Ross Township.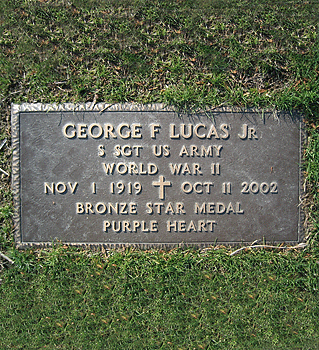 We would like to thank George's daughter, Margaret Ann Gearhart, his son, George Lucas III, and nephew, Robert, for providing the information and photos used in this tribute.