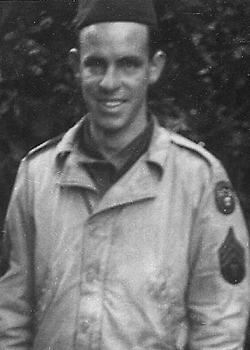 Leo A. Levengood
Biography: Leo A. Levengood was born on Aug. 9, 1919 to Harry L. and Kathleen E. Levengood. The family lived in Montgomery County, PA
Service Time: Leo enlisted at Ft. Meade, MD on Mar. 7, 1942 and is listed on the 6th TD Group payroll roster of Jul. 28, 1943. Official documentation indicates that he was promoted from Cpl. to Technician, Gr. 4 on Aug. 30, 1943 by Col. Logan Berry, while the unit was stationed at Camp Maxey, TX. He was promoted again to Staff Sergeant by Col. Frank Searcy on Dec. 13, 1944 and then to Tech Sergeant two months later on Feb. 8, 1945. Finally, he was promoted to Master Sergeant on Jun. 19, 1945 by the new commanding officer, Lt. Col. John A. Beall. The photo of Leo in uniform shows him as a Tech Sergeant, so the photo must have been taken between February and June of 1945.
After his time in the service, Leo returned to Pennsylvania to marry Helen and together they had one child, a daughter, Kathleen M. Levengood born Feb. 13, 1954. A photo of Leo and his daughter, in about 1955, can be seen at the end of this text.
Leo passed away in April of 1970.
Research: Leo Levengood was one of about five servicemen that my father corresponded with (my mother did the writing) after the war. Three of the men lived in PA, so I assume he felt he had more of a connection with them. Unfortunately it was only a number of years until the letters turned into cards for the holidays and then nothing. I believe it was the Levengood family that my mother corresponded with for the longest. Thankfully my mother still had addresses for a few of these men and their families so I was able to locate them that way.