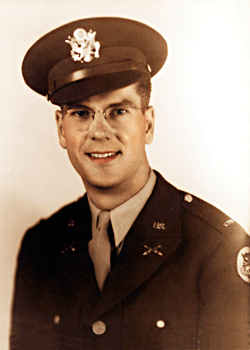 Myron R. Leonard
Biography: Myron Ross Leonard was born on February 16, 1921, in Newton Falls, Ohio. He was the son of James Ross Leonard and Lottie M. Eyster and graduated from South High School in Youngstown, OH. He furthered his education at Ohio State University for an additional two years. When he wasn't in school, Myron worked as an accountant for Cold Metal Process Company, also in Youngstown.
Myron was a member of the 107th Cavalry Regiment, part of the Ohio National Guard, until he was discharged on January 12, 1941.
Service Time: Myron entered the service on March 18, 1942, at Fort Hayes in Columbus, OH. He was quickly identified as a candidate for Officers TrainingSchool and graduated on November 6, 1942, at Camp Hood, Texas. He was initially assigned to the 22nd Regiment of the the TDRTC (Tank Destroyer Replacement Training Center) as a Platoon Leader. Myron remained at the school for the next four months, until he was promoted to 1st Lieutenant and took on the role of a Supply Officer for the 2nd Regiment. He remained in that position for almost a year until February of 1944, when he was assigned to the 24th Tank Destroyer Group as their Supply Officer.
While stationed at Camp Hood, Myron met Johnnie Belle Coskrey who was born in Gatesville, Texas. She was the daughter of John O. Coskrey and Lorena Blackmon. The couple married on June 13, 1944.
The photo below was taken in June of 1939, at Fort Knox, Kentucky. Myron was serving with the 107th Calvary Regiment at the time. He is standing second from the right.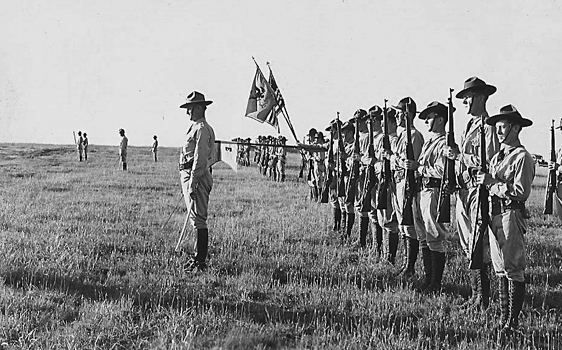 In April of 1944, Myron had been transferred to 1st Platoon, Company A, of the 809th Tank Destroyer Battalion, serving as a Platoon Leader. He took a break from the normal unit duties to get married and also take a three month Advanced Officer Course. He completed the course just in time to ship out with the unit from the New York port on November 30, 1944, arriving in Liverpool, England, on December 8, 1944. A little over a month later they arrived at Le Havre, France, on January 20, 1945. The unit was equipped with M18 tank destroyers and initially supported the Roer River crossing in late February. They crossed the Rhine on March 27th and later supported operations against the Ruhr Pocket in April. They converted to the M36 that same month and helped clear the Harz mountains in late April.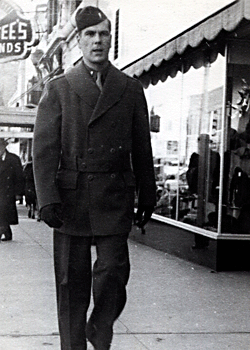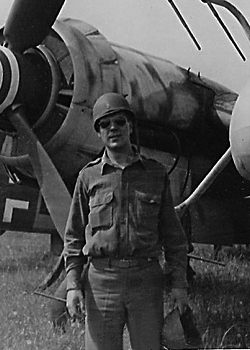 Myron received credit for both of the unit's campaigns, Rhineland and Central Europe, and was awarded the EAME Medal, American Campaign medal and the WWII Victory Medal as well as the Good Conduct Medal. Myron returned to the U.S. on July 10, 1945. He was assigned to the 209th Field Artillery Battalion as their Motor Officer. He remained in that position until January 31, 1946, when he was promoted to Captain. He was then discharged from active duty but remained in the Army Reserves until 1952.

Myron and his wife made their residence in Canfield, Ohio and he went back to school, attending Youngstown College. He worked for the Standard Slag Company and was Manager of Real Estate and the Employee Benefit Program. He was later on the Board of Directors of the Duquesne Slag Company, in Pittsburg, Pennsylvania. The couple had four children.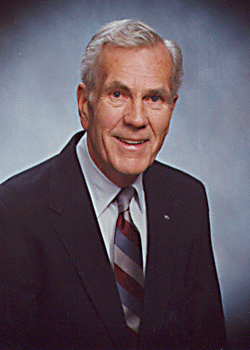 In his spare time, Myron enjoyed farming, playing golf, auto racing and was a race car owner. He was also a licensed pilot and enjoyed flying his own Piper Cherokee plane. He was a member of a number of organizations including the Alban Masonic Lodge 677, the Elks Lodge 55, the Al Koran Shrine and the American Legion Post 177 where he was a Past Commander. He was also a member, and Past-President, of the Canfield Ohio School Board and the Founder of the Boardman Ohio Swim and Racket Club.
Myron passed away on January 15, 1989, and was buried in the Canfield Cemetery, Canfield, Ohio. I want to thank Myron's daughter, Karen, for providing the photos and information for this tribute. Karen also provided information about the 809th and a large number of photos of the unit from her father's collection.