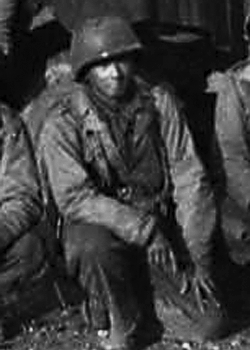 Victor Y. Lee
Biography: Victor Ying Lee was born in Portland, Oregon, on May 29, 1914. He was the son of Yuet Lee and Ssiu Lan Wong and was one of eight children. Both of his parents had emigrated from China. Victor completed three years of high school. His enlistment record indicates he was employed in the clerk/general office line of work before entering the service.
Service Time: Victor entered the service on March 15, 1942, at the Presidio of Monterey, California. He was assigned to Company C of the 607th Tank Destroyer Battalion on March 20. The company landed at Utah Beach on the 23rd of June, 1944. They fought across northern France, took part in the Falaise Gap battles and moved through Lorraine in late summer. By fall, they had participated in the taking of Metz, France, and were approaching the German border with the Third Army. In mid-November, the unit converted from a towed to a self-propelled battalion, equipping with the M36 tank destroyer.
On November 28, 1944, T5 Victor Lee was killed southeast of Merten, France. Four TD's from 3rd Platoon, Company C, were to assist the 3rd Battalion, 378th Infantry (95th ID), in an attack against the town. Both units were to meet at a roadblock at the west edge of town. Unbeknownst to the TD personnel, the infantry met more resistance than expected and had not reached the roadblock, or cleared any enemy anti-tank guns in the vicinity. Two of the TD's were hit by enemy anti-tank fire as they were approaching the town and he was one of several crew men killed.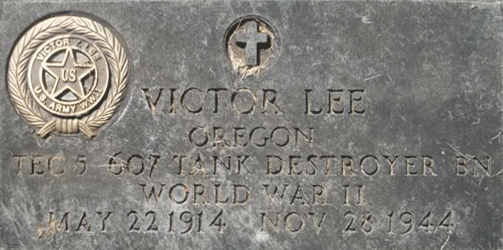 Victor was buried at River View Cemetery in Portland, Oregon. He lies next to his sister, Hazel Ying Lee, who was the first Chinese American woman to fly for the U.S. military. She was one of only two Chinese Americans in the WASPs (Women Airforce Service Pilots). Hazel died as a result of injuries from a run-way collision on November 23rd, five days before Victor's death. You can read more about her in the following article: