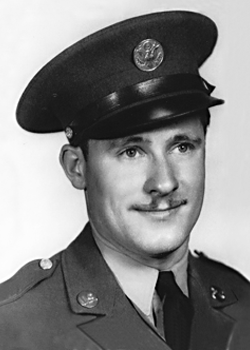 Charles A. Libby
Biography: Charles Ardell Libby was born on October 3, 1917, in Williamsport, Pennsylvania. He is the son of Theodore Libby and Laura McManigal and attended Curtain Junior High through the 9th grade. The Reforestation Relief Act, signed into law in 1933 during the Presidency of Franklin Roosevelt, provided Charles with an opportunity to work and help support his family. The CCC (Civilian Conservation Corps) was created and provided work for 250,000 young men, including Charles, to do projects in reforestation, road construction and developing national parks. Charles was assigned to Camp Morton, which is located in Sullivan County, PA. Charles remained with the CCC until March of 1936, when he returned home to Williamsport.
During his time with the CCC, it was identified that a young girl needed a blood transfusion of a rare blood type. Charles would clearly show the type of man he was when he volunteered to drive to Bloomsburg and provide the life-saving blood. It took a second transfusion from Charles before the girl finally recovered. He left the CCC after a flood damaged his family's home and he was needed to assist with the repairs.
When the draft was started in the fall of 1940, Charles decided to join the Williamsport Army National Guard and was assigned to the 109th Infantry.
Service Time: Charles entered the service on February 17, 1941, at Williamsport, PA. A clash of personalities sent him to the 103rd Field Artillery which was headquartered at Indiantown Gap Military Reservation in Pennsylvania. The unit took part in maneuvers in Tennessee and then more training at Camp Livingston, Louisiana, and Fort Hood, Texas. The unit was redesignated as the 628th Tank Destroyer Battalion and Charles served as a Command Car (M20) driver in C Company as well as a replacement TD Driver on occasion. He also distinguished himself by receiving a shooting badge for the sub-machine gun.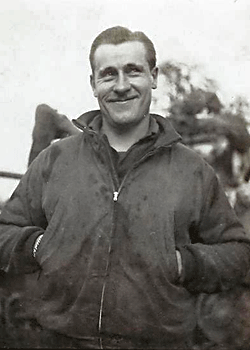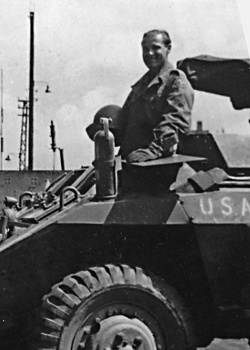 The unit shipped from the New York port of embarkation on January 29, 1944, on the Aquitania, and arrived at Greenock, Scotland, on February 6. They disembarked at Utah Beach on July 30, equipped with M10s and were committed to battle on August 2 near Perier, France. Participating in the envelopment of the Falaise Pocket, they dashed east to the Belgian border, arriving on September 2 and helped liberate Luxembourg. They began an assault on the Siegfried Line on September 13, and conducted artillery missions in October.
The 628th converted to M36's in November and were committed to fighting in the Hürtgen Forest in December. They then shifted to the Aachen sector on December 8, but were ordered to the Ardennes during the Battle of the Bulge and fought to eliminate it in January, 1945. Beginning on February 25, they crossed the Roer River and reached the Rhine on March 10. They then crossed the Rhine on March 31, at Wesel, Germany, and slashed to the Elbe River by April 11. The unit attacked back west to eliminate German pockets and took up occupation duties on April 26 near Peine.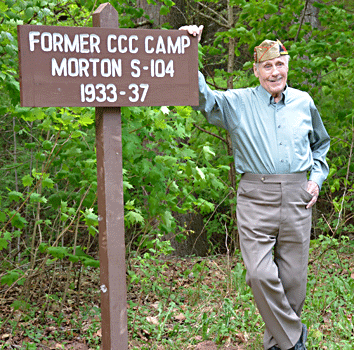 As a driver, Charles regularly saw combat as the 628th was at many times on the front lines. He recalled being sent back due to enemy artillery shelling. He and a companion sought shelter in an abandoned shack containing two dead Germans. Charles suggested propping the dead men up outside to stand guard while they rested. He said they needed to do stuff like that or you'd flip your lid.
Charles left the service at the rank of Technician 5th Grade and received credit for each of the unit's four campaigns of Northern France, Rhineland, Ardennes-Alsace, and Central Europe. He received the EAME Medal, American Campaign Medal, American Defense Medal, WWII Victory Medal and Good Conduct Medal.
He returned to the U.S and made his living by operating his own garbage route. He later owned a Rax Restaurant. In the early 50s, Charles married Virginia and the new couple had three children, sons Chuck and Rob and a daughter Deb. In his spare time, Charles loves to dance, even to this day. He is also a member of the Moose Club and the American Legion Post 617, both in South Williamsport.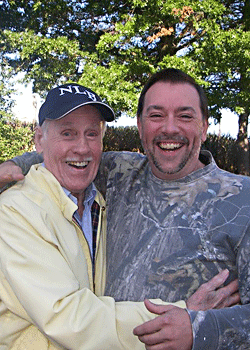 After his retirement, Charles worked with author Steve Hunter to create a book about his time in the military called "From The Command Car" – Untold Stories of the 628th Tank Destroyer Battalion Witnessed First Hand and Told by Charles A. Libby. The book was published in 2015, and is available in paperback from Amazon. Charles and Steve toured to promote the book and share Charles' personal stories.
The photo at left is a recent one of Charles and Steve.
Charles and Steve produced a second book,"Sgt. Libby – 100 Years of Stories", which is also available from Amazon at the following link.
Charles passed away on February 17, 2021, and will be buried in the Montoursville Cemetery in Montoursville, PA. A special thank you to Steve Hunter for his work to preserve and share Charles' memories.