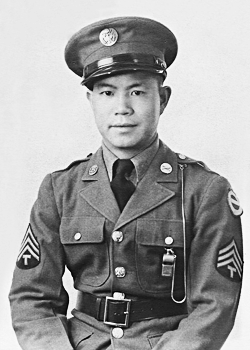 Biography: Stanley Chow Lee, "Stan" was born on June 6, 1914, in Canton, China. He was the son of Lee H. Chow and Lew Sie. At the age of twelve, he was sponsored by an uncle to be brought to America and he made the voyage on a transport ship without any family aboard. The crew named him Stanley and the story is that the name stuck.
He soon became an American citizen and completed grammar school in Portland, Oregon. His enlistment record lists his civilian occupation as cook prior to entering the service.
Service Time: Stan entered the Army on March 16, 1942, at Presidio of Monterey, California. By December of 1943, he is listed on a payroll record as a Staff Sergeant in Company C of the 607th Tank Destroyer Battalion, located at Camp Cooke, CA, at that time. Company Morning Reports list his MOS as 824 (Cook), and he served as the company Mess Sergeant.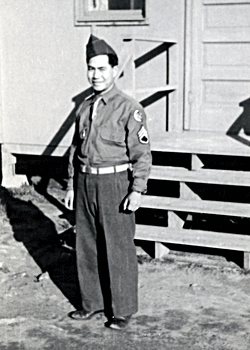 Company C landed at Utah Beach on the 23rd of June, 1944, and fought across Northern France, participated in the battles at Metz, France, in October and November, helped establish a bridgehead at Saarlautern, Germany, in early December, moved to the Ardennes in late January, 1945, crossed the Rhine River at Boppard, Germany, in late March, and ended the war near Plauen, Germany. He told his son a story about having "K" rations buried when they were overseas because the men were tired of eating the same food all the time. In order to get newer rations, they had to use what they had before anything else would be supplied. Burying them was a quick way to 'run out'.
Like many men in the 607th who didn't have enough points to return home following the end of the war, Stan was transferred to the 771st TD Bn in late June and served as part of the occupation troops. It is believed he returned home with the 771st, arriving in New York City on Nov. 29, 1945, aboard the USAT Edmund B. Alexander.
Stan was credited with five campaigns: Normandy, Northern France, Rhineland, Ardennes-Alsace and Central Germany. He earned the following medals: Good Conduct, EAME, American Campaign, WWII Victory and Army of Occupation. He was soon discharged and left the service at the rank of Staff Sergeant.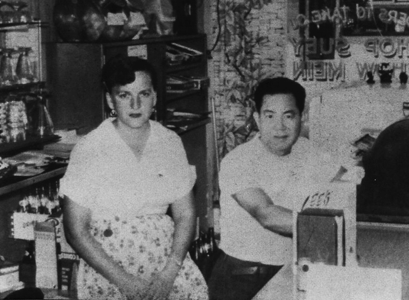 After returning home, Stan went to work in a Chinese restaurant in Vancouver, Washington, eventually working his way up to head chef. He met a waitress at work and he and Gertrude "Gert" Louise Zulauf were married in 1946. She was the daughter of George G. Zulauf and Louise Anna Dobler and was born in La Center, WA. The new couple eventually started their own restaurant in Gresham, OR, and had two sons, Raymond, born in 1948, and Richard in 1950.
They also raised two children from Gert's previous marriage, John and Loretta Johnson. The photo below shows Stan and Gert in their Gresham restaurant. In his spare time, he enjoyed camping, fishing and visiting sites such as the Grand Canyon and Yellowstone with his family. Stan passed away on November 28, 1990, and was buried at the Willamette National Cemetery, Portland, Oregon.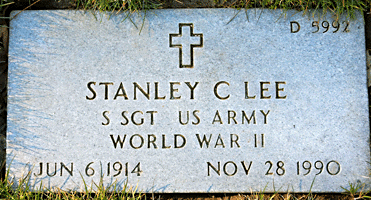 We would like to thank Stan's son, Ray, for providing the information and photos used in this tribute and Find A Grave contributor Judith for the grave marker photo.