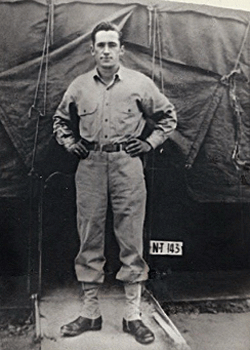 Thomas F. Levangie
Biography: Thomas Francis Levangie was born on September 15, 1917, in Braintree, Massachusetts. He was the son of Patrick Levangie and Christine Beaton. Thomas' family was large and had originated from the Canadian Province of Nova Scotia. Their ancestry was French. Thomas attended local schools through the 10th grade and then worked at the Armstrong Cork Company in Braintree. His enlistment record lists him as a pressman, plate printer or printer.
Service Time: Thomas entered the service on March 4, 1942, at Boston, MA. He was initially assigned to Company A of the 643rd Tank Destroyer Battalion and trained with them at a number of military facilities including, Camp Blanding, Florida, Camp Shelby, Mississippi, Camp Hood, Texas and the Desert Training Center.
At some point late in 1943, Thomas and a few other men from the unit, transferred to the 702nd Tank Destroyer Battalion. Just prior to them leaving the U.S., the unit was equipped with M18 tank destroyers. They boarded ship and left the Boston port on February 15, 1944, arriving in England on February 25, 1944. They were then re-equipped with M10 tank destroyers. They shipped to France, landing at Omaha Beach on June 11th and entering the line at Livry on July 2nd. They formed part of the 2nd Armored Division's spearhead during the Cobra breakout in late July and fought at Mortain, later establishing the first contact with the Canadians during the encirclement of the Falaise Pocket.
The unit's After Action reports identify that on August 23rd through the 25th, the battalion assisted in a drive toward Elbeuf, France. Company A was attached to CCA (Combat Command A) on the left column and destroyed one French Tank, three half track vehicles, four light reconnaissance vehicles, two supply trucks, two motorcycles and captured two official sedans. During the operation, one M10 was struck by an 88mm artillery shell and two men were killed, two wounded. Although not specifically identified, it is believed that Pvt. Thomas F. Levangie was one of the men killed on August 24, 1944. Additionally, Company A was credited with three German Mark V tanks and assisted in the destruction of two Mark VI tanks.
Additional information from another 702nd member, Russell Littlefield, who had also served in the 643rd, relates that he had met "Tom" and another soldier, Jack Collins, on the LST (Landing Ship Tank) crossing the English Channel. The men exchanged home addresses just in case something would happen to any of them. All Tom spoke about was getting back home and taking care of his mother. He wanted to build her a home. One day after returning from a patrol, Russell saw a body that was covered with canvas. He asked the medic and he identified the soldier as Levangie. Russell said he cried like he had never cried before. The report of Tom's death indicated that he was in the turret of his tank destroyer and was hit in the head by a German sniper. He died instantly and fell down on the breechlock of the TD's main gun.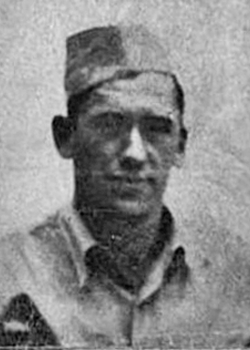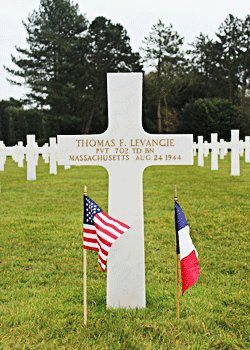 Thomas was buried in the Normandy American Cemetery in St. Laurent-sur-Mer, France, Plot: A, Row: 9, Grave: 180. He received the Purple Heart for giving the ultimate sacrifice for his country.
I want to thank Thomas' nephew, Daniel, for providing the information and photos for this tribute. Thank you also to Ben Savelkoul for providing additional information and to Russell Littlefield for sharing his memories of Thomas.