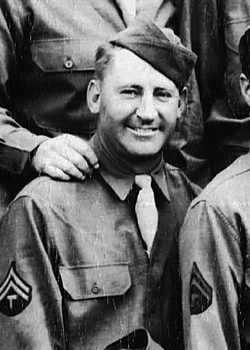 Eugene L. LaFountain
Biography: Eugene Lonnie LaFountain, "Gene", was born on May 15, 1910, in Grant County, South Dakota. He was the son of Lonnie E. LaFountain and Eva Luella Thornburg. By 1916, when his sister Fern was born, the family was living in Malta, Phillips County, Montana. In 1939, Gene was living in Spokane, Washington, and on March 18th of that year, he married Mary Ann Perpich. She was the daughter of John and Eva Perpich and was born in Idaho. Mary was living in Spokane and working as a stenographer. Sadly, she passed away on Dec 22, 1940. Gene worked at various types of clerking jobs prior to entering the military.
Service Time: Gene received his Selective Service physical examination on Feb 13, 1942, in Spokane and entered the Army on March 14, 1942, at Fort Lewis, Washington. He was eventually assigned as a gunner in Company B of the 607th Tank Destroyer Battalion. In early December, 1944, the 607th was attached to the 95th Infantry Division and a bridgehead had been established by the 379th Infantry Regiment across the Saar River and into Saarlautern, Germany. Tank destroyers had been moved across the bridge and the Germans were attacking repeatedly in an attempt to re-take or destroy the bridge. In the initial attack, five enemy tanks approached and one was destroyed. Corporal LaFountain pulled out past the burning tank and his TD was hit, knocking off a track. Undaunted, he destroyed the nearest tank. Another round went through his TD, cutting off his leg. In spite of his serious wound, Cpl. LaFountain continued to fire until his ammunition was exhausted. For his supreme devotion to duty, he was awarded the Distinguished Service Cross. He also received a Purple Heart medal.
Post Service Time: Gene returned to the Spokane area and worked as a parts man for Globe Ford Garage and is later listed as working as a driver in the 1954 Spokane City Directory. He is listed as a salesman for Pat Faraca Products, or Produce, in the 1960 directory and later had a truck produce route throughout the northwest. He retired in 1969. Gene passed away on Nov 5, 1988, and is buried in the Fairmount Memorial Park, Spokane, Washington. We would like to thank Laurie Roberts for the use of her headstone photo and providing research information on Gene's life in Spokane.