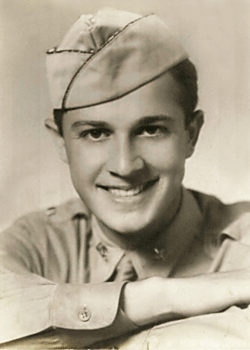 Eugene L. Liberati
Biography: Eugene L. Liberati, "Gene" was born on April 27, 1922, in Niles, Ohio. He was the son of Edward Liberati and Rose Wolfe who were immigrants from Italy. He graduated from McKinley High School in 1940, and continued his education studying chemical engineering at Youngstown College, Youngstown, OH, from 1940 through 1942.
Gene signed up for CMTC (Citizen's Military Training Camps) and dreamed of being like his grandfather who had served in the Italian Army. When he wasn't in school or in training, he worked as an assistant manager in his family's grocery store.
Service Time: Gene volunteered for military service in December of 1941, and in April of 1942, he was commissioned as a 2nd Lieutenant in the Army. He was initially assigned to an infantry unit but was then transferred to the 812th Tank Destroyer Battalion, commanding their Reconnaissance Company. At the time, they were stationed at Camp Gordon, Georgia.
He was only with the unit for a short period because in his heart he wanted to be a pilot. In January of 1943, he was able to transfer to the Army Air Corps and earned his wings at Victorville Army Flying School in California. He qualified to fly gliders and C-47 transport planes and was assigned to the 61st Troop Carrier Squadron. He flew around the U.S. transporting soldiers and equipment until April of 1943, when he was made a flight instructor at Bowman Field in Louisville, Kentucky.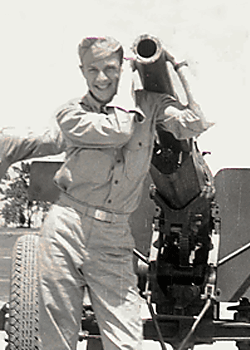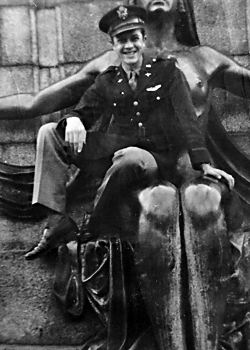 The photo above left is Gene while serving with the 812th. The photo at right shows him after he had transferred to the Army Air Corps and had finished flight school.
It was in Louisville that he met Jean Frances Patton who he would marry that same July. She had been born in Dayton, Ohio, and was the daughter of Jean D. Patton and Margaret Garrel Frame. For the rest of the war, he served at a number of airfields (including Laurinburg-Maxton AAF in North Carolina and Greenville AAF in South Carolina) throughout the southern states teaching pilot trainees and engaging in public relations work. He received the Army Commendation Medal, the American Defense Service Medal, the American Campaign Medal, World War II Victory medal and the Army of Occupation Medal for Japan.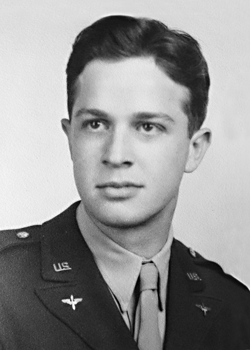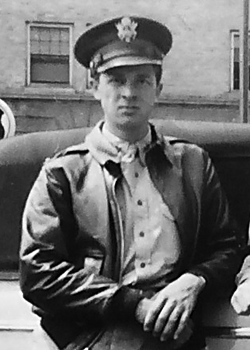 After the war, Gene served as a public relations officer for numerous army bases in the south. He continued his PR work at various military bases in China, Japan and the Philippines where occupation forces were stationed. He left the service in 1947, but continued to serve in the Air Force Reserve until 1969, when he was transferred to the inactive reserve. He retired in 1982 at the rank of Lt. Colonel.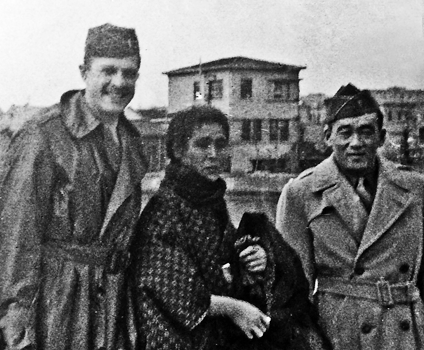 The photo at left is Gene in 1947, during his postwar duty in Japan and Okinawa.
After a few more moves, Gene and Jean would eventually make their home in Williamsburg, Virginia. He became an executive in the food and beverage industry, working for Morton Frozen Foods, Marriott, Wilkins Coffee and the Colonial Williamsburg Foundation. The couple had two daughters, Sandy, born in 1944, and Lisa in 1952. In his spare time, Gene enjoyed reading, watching westerns and spending time with his family. He was also a member of the Honorable Order of Kentucky Colonels, the Masonic Order, Scottish Rite, the U.S. Coast Guard Auxiliary and the Virginia Chefs Association.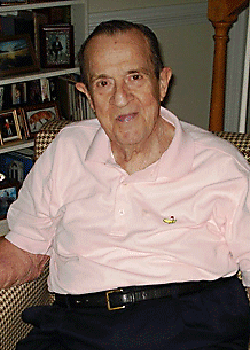 Gene passed away on November 1, 2011 and was buried in the Grace Episcopal Churchyard, in Yorktown, Virginia. I want to thank Gene's grandson, Sean, for providing the information and photos for this tribute.