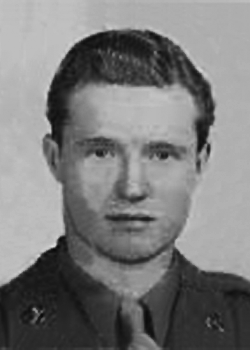 Gordon E. Lundie
Biography: Gordon Edward Lundie was born on February 28, 1923, in Regina, Saskatchewan, Canada. He was one of two sons born to Alexander Key Lundie and Megan Clara Fletcher. The family moved to the U.S., settling in Michigan. Gordon's brother Lawrence was born in 1924. In 1942, Gordon is listed as working in a factory.
Service Time: Gordon entered the service and was assigned to the 661st Tank Destroyer Battalion. The unit trained at a number of facilities including Camp Hood, Texas, Camp Claiborne, Louisiana, Camp Swift, TX, Camp Bowie, TX and Camp Chaffee, Arkansas.
On December 22, they moved to Camp Shanks, New York, for final preparations before shipment overseas. They shipped out from the New York port on January 10, 1945, and arrived at Le Havre, France, on January 21st. They were equipped with M18 tank destroyers and received a hurried two weeks of preparations before marching hundreds of miles into the interior of France. They were committed to battle at Rocherath-Krinkelt, Belgium, on February, 16th.
Fighting along the Siegfried Line near Helenthal, Germany, in March, they then crossed the Rhine on the 27th. They advanced across Germany to Leipzig by April 17th, where the men saw their last fighting. In only a three month period, the 661st had taken 727 prisoners, destroyed many anti-aircraft guns, machine gun nests, and strongpoints and marched over 1200 miles. They received credit for the campaigns of Rhineland and Central Europe. Gordon left the service at the rank of Corporal.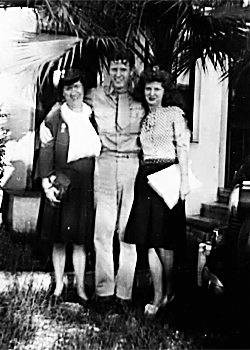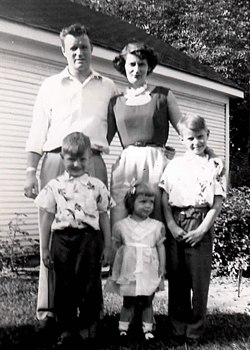 The photo above left shows Gordon with Germaine and his mother soon after his return home from Europe. The right photo is Gordon with the family in the early fifties. The photo below left is Gordon in 1964.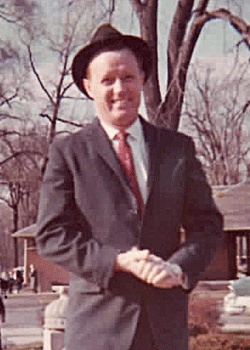 Gordon returned to Michigan and on September 27, 1945, and married the former Germaine Forbes, in Dearborn, MI. She was born in Detroit and was the daughter of James P. Forbes and Julia DeVuyst.
The couple made their home in Detroit and Gordon worked at Preferred Cleaners in Grosse Pointe, MI. They had three children, Ronald, born in 1947, Allan in 1949, and Sherry in 1950. Gordon later worked as a hi-low tow motor driver for the Cross Company in Fraser, MI.
Gordon and Germaine's marriage would end in the mid-fifties, and Gordon moved to East Detroit. He later married the former Arleata Faith Hernden in the early sixties. Gordon gained two step-sons, James and Michael, from Arleata's previous marriage.
Gordon passed away on August 16, 1979, at the age of 56. He was buried in the Forest Lawn Cemetery, Detroit, MI. I want to thank Gordon's son, Allan, for providing the photos and much of the information for this tribute.