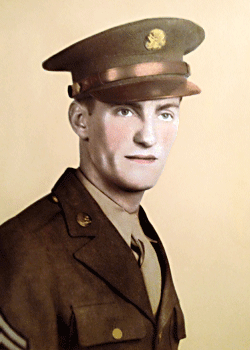 Robert C. Lucas
Biography: Robert Chalmers Lucas, "Lou" was born on May 23, 1918, in Indiana, Pennsylvania. He was the son of Chalmers Lucas and Minnie Pearl Iseman and graduated from Indiana High School. His enlistment records states that he worked in the production on chemicals prior to the war.
Lou married the former Martha V. Thomas, who was born in Punxsutawney, PA, and was the daughter of Harry K. Thomas and Rachel Bell. The new couple had a son, Robert Thomas Lucas, "Bobby", born in 1942.
Service Time: Lou entered the service on March 17, 1942, at New Cumberland, PA. He was assigned to A Company of the 608th Tank Destroyer Battalion and trained with them at various military facilities, including Camp Hood, Texas.
Promotion to Technician Fifth Grade
When the 608th was disbanded on December 22, 1943, Lou was transferred, with others from the unit, to the 643rd Tank Destroyer Battalion. He specifically served in B Company.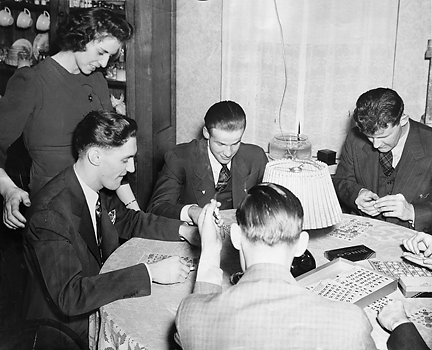 In the photo at left, you can see Lou, sitting on the left, at a farewell party held in his honor prior to his leaving in March with the Selective Service Group.
He continued to train in the U.S. until they received orders and proceeded to Fort Myles Standish, Massachusetts, for final preparations for shipment. The unit shipped out from the Boston port aboard the ship Robin Sherwood on September 5, 1944. They arrived at Cherbourg, France, on the 15th, equipped with towed 3″ guns.
They were first engaged near Manhay, Belgium, on December 22nd and crossed the Roer River on February 24, 1945. They were re-equipped with M18 tank destroyers in March and crossed the Rhine River at Wesel, Germany, and the Elbe River en route to Zerbst.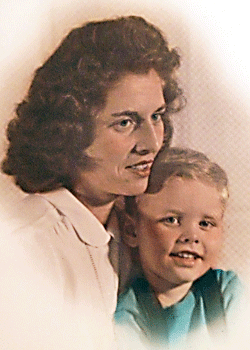 On April 2nd, Pfc Robert C. Lucas was killed in action in the vicinity of Wadersloh, Germany. A letter to Lou's wife by his commander, Sgt. Albert Daigle, describes the circumstances behind his death. "Lou was using a bazooka to fire upon enemy tanks and the bazooka exploded, catching his clothing on fire and causing injuries to his arm and chest areas." Daigle also recalls him, "complaining about his insides." A second letter from a friend of Lou's, Ferd White, also mentions internal injuries.
Albert W. Daigle Letter to Wife
Lou was taken away to a field hospital and was reportedly doing better but he later died. We are unsure why Lou was initially identified as being MIA or Missing in Action, per a telegram sent to the family on April 16, 1945, but it was only a few days later on the 20th that he was officially declared KIA (Killed in Action).
Lou was initially buried in a temporary location but was later buried in the U.S. Military Cemetery at Margraten, Holland, Plot BB, Row 5, Grave 124, per a letter dated November 7, 1946, from the War Department. He was later brought home and re-interred in the Oakland Cemetery in Indiana, PA.
I want to thank Lou's relative, Adam Donaldson, for providing the information, documents and photos, used in the tribute. Adam's grandmother was Lou's niece and shared these materials with him. I also want to thank Sean Mckee for providing the grave marker photo.