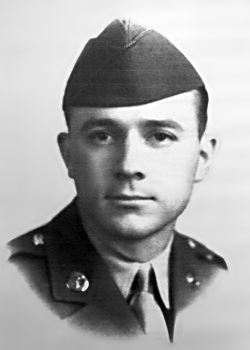 Alton E. Lucas
Biography: Alton Elmer Lucas, "Al", was born on February 2, 1917, in Portland, Oregon. He was the son of Elmer C. Lucas and Agnes M. Kessler. He attended Vernon Grammar School, Jefferson High School and the University of Portland, graduating in 1939 with a BA degree.
Al worked for the WPA (Work Projects Administration) from December, 1940, through July, 1941. He then worked for the U. S. National Bank of Portland from July, 1941, through March, 1942. He was also a member of the Portland Chapter, American Institute of Banking.
On October 9, 1943, Al married Olivia Elizabeth (no last name available), from Mt. Calm, Texas.

Service Time: Al entered the Army on March 16, 1942, at Presidio of Monterey, California. On the 30th, he arrived at Company C, of the 607th Tank Destroyer Battalion, and trained as a TD gunner. On June 11th, he was transferred to the Medical Detachment. At some point, he must have taken tests to become an Aviation Cadet and on March 12, 1943, he was transferred to the Air Corps. He remained on Detached Service with the 607th until he received orders to report on the 31st.
He remained with the 607th, on detached service, pending orders for his transfer to an Air Force Classification Center. After entering the Air Corps, he received Aircraft Maintenance training at Amarillo, Texas, from July thru Dec, 1943, next moving to Chanute Field, Illinois, about 130 miles south of Chicago, and took electrical training. Eventually he was assigned to the 348th Service Group, HQ & Base Service Squadron.
Al was temporarily promoted to Corporal September 11, 1944. In late March, 1945, Al and Olivia had a son, Alton Jr. who was born in Taylor, TX. In May of that year, he was shipped to the Pacific Theater and ended up at Iwo Jima. Al left Iwo Jima on November 3, to begin the journey home after the war ended, and arrived at the Los Angeles Port of Debarkation on Nov 29th. He was credited with the campaign of Ryukus and was discharged at Ft. Lewis, Washington, on Dec 6, 1945.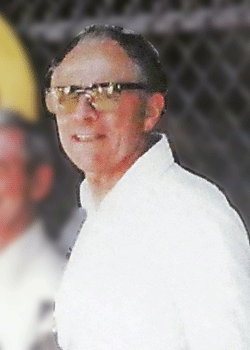 While little is known about Al's life after he returned home, he worked as a trust officer in banking. He was very active in the reunions held by former members of the 607th. They formed a "607th Tank Destroyer Battalion Club" and a roster, dated 1986, lists over 200 men from the unit. He and Olivia eventually had two more children, Paul and Marsha.
The photo at left shows Al at one of the 607th reunions.
Alton passed away on May 4, 2009, and was buried in the Mount Calvary Cemetery, Portland, Oregon. Most of the information in this tribute was obtained from the "607th Tank Destroyer Battalion historical materials" at the Oregon Historical Society, Davies Family Research Library. We would like to thank Scott Daniels, Reference Services Manager, for his assistance during our visit.