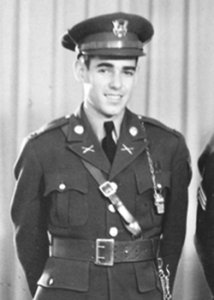 Rex E. Lewis
Biography: Rex Emerson Lewis was born on April 22, 1921, in Cambria, Iowa. He was the son of Hollie Robert Lewis and Mary Leona Brewer and graduated from Cambria Public Schools. He continued his education at Iowa State University, in Ames, Iowa, and took part in their ROTC program. He graduated in 1942 and was commissioned as a 2nd Lieutenant.
Just prior to the war, Rex was a student but worked part time doing farm work and student jobs on campus.
Service Time: Rex entered the service on June 11, 1942, right after his graduation from college. He was eventually assigned to the 826th Tank Destroyer Battalion, which had been formed at Camp Roberts, California. On April 18, 1944, while stationed at Fort Ord, CA, the unit was re-desiginated as the 826th Amphibious Tractor Battalion. He was sent to both Automotive Maintenance School and Battery Executive Officers School and would later serve as a Company Commander.
In August of 1944, the 826th shipped out from the San Francisco port to the Pacific Theater. The unit received credit for the campaigns of Bismarck Archipelago, Leyte, Luzon and the Southern Philippines. Rex shared with his son that while serving in the Philippines, one of his Sergeants asked to take a few men to find and eliminate snipers from the area near their camp. Although it was a very dangerous mission, he assured Rex that he knew what he was doing. He was killed soon after the mission started. The other men were able to kill the sniper but they abandoned their mission and came back to the camp without burying the Sergeant. Rex petitioned his Captain to allow him to go out and give the Sargent a proper burial. He was assigned a group and led them into the jungle where they were able to find both the Sergeant and the sniper. They buried them both together without a marker, but made sure to record the position for later retrieval.
After the atomic bombs were dropped on Japan and the war ended, the 826th was ordered back to the U.S. Rex's commanding officer determined that Rex should remain there and be responsible for the equipment. He told the Captain that he was not going to sign for any equipment he wasn't able to pay for. We are not sure of all the reasons but Rex was identified as suffering from "battle fatigue" and ordered to the medical unit. It is believed that it was the death of the Sergeant and possibly others that had affected him so deeply. He recalled being given medicine by a Private, who was the only soldier treating the group labeled with this condition. Rex didn't remember anything from that point, until he woke up in a hospital in California, which was sometime after July 26, 1945, when he arrived back in the U.S.
While at the facility, Rex remembered receiving shock treatments, which were rough and seemed to be a daily routine. There were about 25 other men there also receiving the same treatments. The staff would have to hold him down and used a heavy wet blanket while telling him not to worry that they weren't going to kill him. These treatments continued until one of the other men tried to escape by hiding in an oat bin. He was caught and Rex found himself standing next to the man who was now covered in oats. The next day, the same man was receiving his shock treatment and he ended up dying during the procedure. After this event, everyone was transferred to another facility, Bushnell General Hospital, in Brigham City, Utah.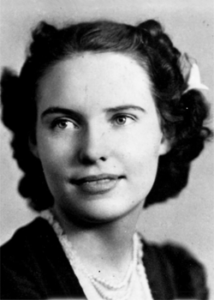 When he was moved, Dorothy, his soon to be wife, wasn't initially told but was eventually able to track him down. When the hospital felt they could no longer help him, he was released into her care. She promised to take him home and provide him with care.  On November 4th, Rex married the former Dorothy Lorraine Castle who was born in Omaha, Nebraska, and was the daughter of Drew William Castle and Mildred Viola Strong. The new couple made their home in Centerville, IA.
Rex was Honorably discharged from the Bushnell Hospital on December 27, 1945. The Army did note Rex's condition on his records, which would provide for any necessary treatment in the future. In addition to credit for each of the unit's three campaigns, Rex was awarded the Asiatic-Pacific Theater Ribbon and the Philippine Liberation Ribbon with two Bronze Star attachments. He left the service at the rank of 1st Lieutenant.
Now back in Iowa, Rex and Dorothy would have four children, James (Jim), born in 1946, Laura in 1948, Drew in 1950, and Dawn in 1951. Rex bought a farm in Cambria, IA, and worked as a farmer. Later in life, he volunteered at the Veterans Hospital in Marshalltown, IA. He was a member of the Kiwanis, American Legion, Baptist Church and American Angus Association. The family moved a number of times and ended up settling in Union, IA.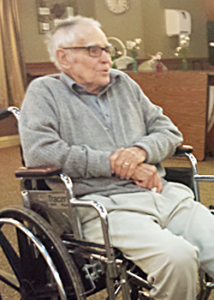 Rex lived a normal life until the mid 50's when he suffered a relapse of the issues he had at the end of the war. Thankfully he was treated at the Veterans Hospital and was able to return to normal life. He didn't talk about his time in the war but on a Sunday in 2014, his son Jim was able to sit down with him and discuss some of his experiences. In addition to the stories already mentioned, he also described the birth of his first child and a much-appreciated doctor, Albert L. Yocom Sr. The doctor only charged the couple ten dollars, with his reason that Rex's WWII service deserved a reduced bill. The doctor charged the couple the same amount for their second child.
Rex passed away on July 8, 2015, and was buried in the Union Cemetery in Union, IA.
The photo to the left shows Rex during his 2014 discussion with his son Jim about his WWII experiences. The discussion was held at the urging of Jim's wife, Nancy. Information and all photos provided courtesy of the Lewis family. In addition to Rex's military service, his brothers Keith and Robert both attended Iowa State University and graduated from their ROTC program.