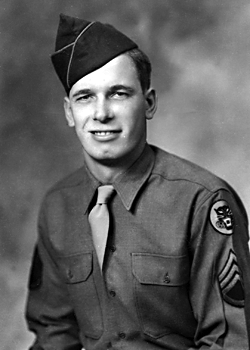 Stanley E. Miller
Biography: Stanley Edwin Miller, "Stan", was born on January 11, 1921, in Ashland, Boyd County, Kentucky. He was one of four children born to Stanley Matthew Miller and Mary Margaret Dennis. He attended Ashland High School, graduating in 1938. That same year, he began working for United Woolen Co., in Ashland, as a men's clothing salesman and also doing the bookkeeping. At the same time, he began studies at the Ashland School of Commerce, graduating in 1940. In June of 1940, he left his job for a better position at a local steel mill, American Rolling Mill, where he checked the efficiency and quantity of work performed by maintenance personnel. He left this position in July of 1942, just before entering the military.
Service Time: Stan entered active duty in the Army on August 31, 1942, at Huntington, West Virginia. He was initially sent to Fort Thomas, KY, for induction but on September 3, 1942, he was assigned to the 771st Tank Destroyer Battalion stationed at Pine Camp, New York. He was a member of Company C and worked as a company clerk. On January 11, 1943, he was promoted to Corporal. On the 16th, Stan was transferred to the 2nd Platoon, Company C, of the 656th Tank Destroyer Battalion, which was formed on April 3, 1943, at Camp Bowie, Texas. On June 15, 1943, he was promoted to Sergeant and to Staff Sergeant on August 17th of the same year. Following tank destroyer training at Camp Hood, Texas, the 656th arrived in England in December, 1944. More training ensued and they landed at Le Havre, France, on February 6, 1945, entering the line, with M-18 tank destroyers, on Feb. 28, attached to the 9th Armored Division. Just after noon on March 7, advance scouts for Task Force Engemen, of the 9th AD, approached the German village of Remagen. They were astonished to see the Ludendorff Bridge, spanning the Rhine River, still standing. The task force attacked the village and soon captured it and both ends of the bridge. Although the bridge had sustained damage from German attempts to demolish it, foot troops and armored vehicles were still able to cross. Securing the bridgehead on the eastern bank of the river was critical.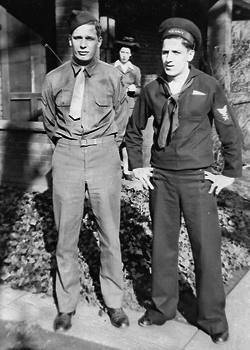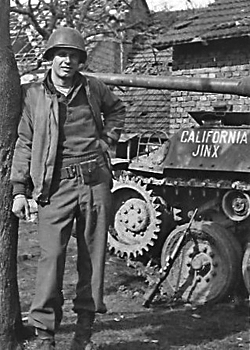 In the early morning hours of March 8, 1945, Staff Sergeant Stanley E. Miller began leading his platoon across the bridge. Immediately behind his jeep, Sgt. John Jaroscak's M-18 broke through the wooden planks covering a shell hole and was stuck. Other than foot traffic, all movement across the bridge was stalled. Knowing the desperate need to continue moving men and equipment across to secure the eastern bridgehead, Stan devised a plan and worked with U.S. engineers, under heavy enemy artillery and mortar fire, to free the vehicle. Finally, at 5:30 AM, they succeeded and traffic was once again moving. To honor his outstanding devotion to duty, Stan was awarded a Bronze Star.
The above photo on the left shows Stan and his brother Gene, who served in the U.S. Navy during the war, and in the right photo, Stan is shown with an M-18 named "California Jinx".
The 656th converted to M-36 tank destroyers in late March and supported the 9th AD's drive to help encircle the Ruhr in early April and then dashed eastward to the Mulde River. They then turned south and entered Czechoslovakia on May 6, 1945, reaching St. Sedlo where they were when the war ended. The unit was credited with the campaigns of Rhineland and Central Germany. Company C and 2nd Platoon, Reconnaissance Company, 656th TD Bn, were awarded a Distinguished Unit Citation for their actions during the drive to the Rhine and capture of the Ludendorff Bridge. In addition to the Distinguished Unit badge and Bronze Star, Stan was awarded the Good Conduct, EAME, American Theatre and WWII Victory Medals. He was promoted to 1st Sergeant on October 1, 1945, and left the service at that rank on November 30 at Camp Campbell, KY.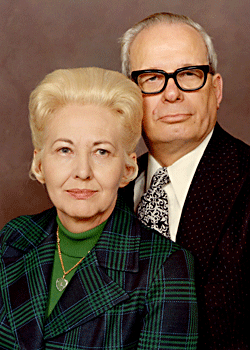 Stan married the former Dorothy Vera Robards on May 12, 1946. She was born in Dawson Springs, KY, and was the daughter of Jasper Sympson Robards and Vera Ellen Howton. The new couple had two daughters, Vera Jane, born in 1947, and Rebecca Ann in 1949, and later, three granddaughters, Amy Marie born in 1968, Nichole Ann in 1971, and Jennifer Ann in 1977.
After leaving active duty in the Army, Stan worked in his family's business until 1951 when he joined Sylvania Electric Products (incandescent lamp manufacturing facility in Huntington, WV) and was promoted to Production Supervisor in 1952. Later that year he was transferred to Ottawa, OH, as Foreman of Sylvania's TV Picture Tube manufacturing facility. In 1957, the family moved to Anaheim, CA, where Stan was promoted to General Foreman at Sylvania's facility in Fullerton. In 1959 they returned to Ottawa, for two years, where he continued as General Foreman of the much larger facility. Then, in 1961, he was transferred back to the Fullerton plant and promoted to Plant Manager. In 1962 he returned to the Ottawa facility as Manufacturing Superintendent, then Production Manager in 1966, Plant Manager in 1978 and he retired in 1986. Sylvania Electric Products was purchased by GTE (GTE Sylvania) and later owned by Philips Eindhoven, BV (Philips Display Components).
In his spare time, Stan enjoyed bowling and golf. He was a member of a nearby church and numerous organizations, including; the First Christian Church in Leipsic, Ohio, where he served as elder and Sunday School teacher; Kentucky Order of Colonels; Country Acres Golf Club, Elks Club 54, Lima, Ohio; Board of Directors First National Bank, Ottawa, OH; Past president Jaycees, Ashland, KY, American Legion and Veterans of Foreign Wars, Ottawa, OH.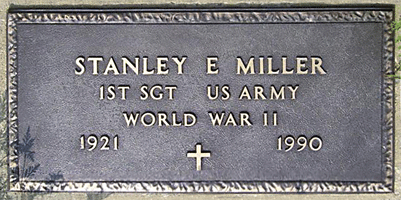 Stan passed away on November 19, 1990, and was buried in the Harman Cemetery near Gilboa, Ohio. We would like to thank Stan's daughters, Becky and Vera, for providing the information and photos used in this tribute and additional materials on the 656th. Thank you also to Find-a-Grave contributor Calling~All~Angels for the use of the grave marker photo.