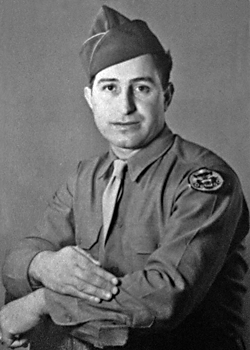 Sylvester A. Moore
Biography: Sylvester A. Moore "Babe" was born on November 28, 1914. He was the son of Joe Moore and his wife Josie and attended local schools through the 12th grade. He then went to work in an unspecified occupation. He married the former Mildred Centani, who had also been born in California, and the couple would have a daughter, Linda in 1943. The family would reside in San Jose, CA.
Service Time: Sylvester entered the service on February 17, 1945, and was assigned to a tank destroyer unit. The particular unit is unknown but we do know that he was deployed to the Philippines. He left the service at the rank of Staff Sergeant.
Now back in the U.S., Sylvester would work for the the San Jose Theater as a stagehand. He a Mildred would have a second child, David born in 1951. In his spare time, he enjoyed gardening and was a Major League Baseball fan. He particularly liked the Oakland and San Francisco teams. He as also a Democratic Party member.
Sylvester passed a way on December 21, 2005, and was buried in the Oak Hill Cemetery in San Jose. I want to thank Sylvester's grandson Michael for providing the information for this tribute. I also want to thank Valerie Handly for the photo of Sylvester.