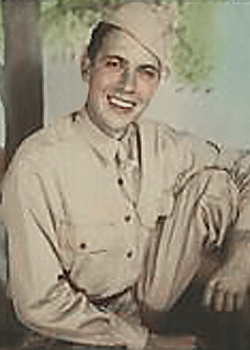 Veryll E. Magneson
Biography: Veryll Edward Magneson was born on July 27, 1917, near Stanton, Iowa. He was the son of Arthur Edward Magneson and Freida Fredricka Elizabeth Brodd. He started working as a farmer with his father, at a young age.
Service Time: Veryll entered the Army on July 23, 1942, and was assigned to Headquarters Company of the 818th Tank Destroyer Battalion. The unit trained at number of military installations including Fort Sill, Oklahoma, Camp Hood, Texas, and Mansfield, Louisiana, where they took part in large scale maneuvers.
The unit moved to Fort Dix, New Jersey, and then Camp Shanks, New York for final preparations for shipment overseas. The men boarded ship and departed on October 21, 1943, arriving in Northern Ireland on November 1st and began training for the upcoming invasion. They boarded transports on July 11, 1945 (D+36) and landed in France on the 14th with M10 tank destroyers.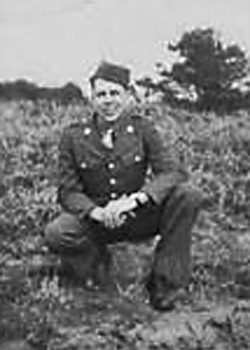 They advanced across France during August and September to the area of Metz, then supporting operations along the Saar River until December. The 818th then transferred to the Ardennes sector and HQ Company received an urgent request for ammunition from C Company, which was located in the vicinity of Bavigne, Luxembourg. The Company was under heavy artillery fire but T/5 Veryll Magneson volunteered to drive the needed supplies to the front. During the hazardous drive to their position, Veryll was hit in the head by shrapnel but still completed his mission. He was awarded the Bronze Star for his actions.
The unit then participated in the race across Germany beginning in March, 1945, and converted to M36 tank destroyers prior to mid-April. At the end of the war, the unit was located in Kienberg, Czechoslovakia. The 818th received credit for campaigns in Normandy, Northern France, Rhineland, the Ardennes and Central Europe. Veryll left the service on November 23, 1945.
Veryll returned home and married the former Ruth Geneva Jones on August 3, 1947, in Griswold, Iowa. They would start farming in the Stanton area, later moving south of Villisca, IA, where they continued to farm until moving to Stanton in 1988. The couple had four daughters, Debbie, Verlene, Connie and Cindy.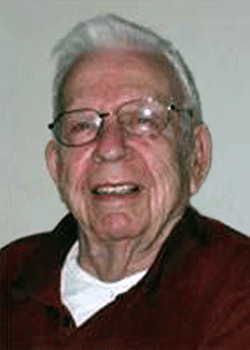 In addition to farming, Veryll drove a truck hauling sand, lime and rock and had a milk hauling route. He was also a heavy equipment operator, which he continued after his retirement from truck driving until the age of 83. He also attended the Tabor, Bethesda and Bethlehem Lutheran Churches.
Veryll passed away on January 11, 2017, and was buried in the Evergreen Cemetery in Red Oak, Iowa. I want to thank Veryll's nephew, Dan, for providing the photos and information used in this tribute.