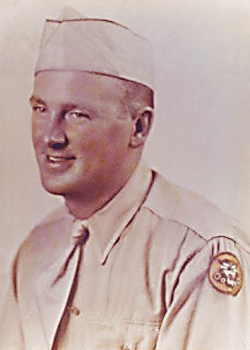 Joseph F. McCormack
Biography: Joseph Francis McCormack was born on November 20, 1909, in Hoboken, New Jersey. He was the son of William McCormack and Rebecca Hough and attended school #3 in Hoboken, through the grammar level. His enlistment record indicates that prior to the war, he worked as a machine operator, in a paint manufacturing plant.
On October 18, 1941, Joseph married the former Ruth Elnora Hundevadt who was the daughter of Harry Jorgenson Hundevadt and Elizabeth Addy Everson. The new couple would have a daughter, Edith, born in 1942.
Service Time: Joseph entered the service on December 7, 1943, and was sent to North Camp Hood, Texas, for training. He was assigned to Company C of the 129th TD training Battalion and completed his training on May 12, 1944. His military specialty was Anti-tank Gunner and he also qualified as a Marksman with the M1 Rifle. Both Joseph and his brother Harold were then assigned to Company C of the 605th Tank Destroyer Battalion.
Training Certificate – TD Replacement Training Center
The unit shipped out from the New York port on December 10, 1944, and arrived at the Firth of Clyde, Scotland, on December 16th. Just over a month later, they boarded transports and landed at Le Havre, France, on January 26, 1945. They were equipped with towed 3″ guns and entered combat on February 16th near Tevern, Germany.
The unit crossed the Roer River on February 24th and joined the drive to the Rhine. They were then deployed to the Remagen bridgehead on March 12th. The 605th was withdrawn on March 17th and sent to Belgium to support British armored forces, but almost immediately were attached to the 17th Airborne Division. Crossing the Rhine beginning on March 25th at Xanten, they participated in the reduction of the Ruhr Pocket in April and crossed the Elbe River on April 30th through May 1st at Bleckede, Germany.
The 605th received credit for campaigns in the Rhineland and Central Europe and Joseph was received the EAME medal, WWII Victory Medal and Good Conduct Medal. At the end of the war, Joseph was transferred to the 740th Tank Battalion for occupational duties. He returned to the U.S. on January 2, 1946, and left the service on the 7th, at Fort Monmouth, New Jersey. He had reached the rank of Private First Class.
Joseph returned to the U.S. and to his wife Ruth, daughter Edith and new son Arthur, who had been born while Joseph was overseas. The small family made their home in Secaucus, NJ, and Joseph went to work as a machine operator for the Continental Can Company in Patterson, NJ. He was also a member of the VFW in Secaucus.
Joseph passed away on December 23, 1963 and was buried in the Hillside Cemetery in Lyndhurst, NJ. I want to thank Joseph's son, Warren, for providing the information and photo for this tribute.