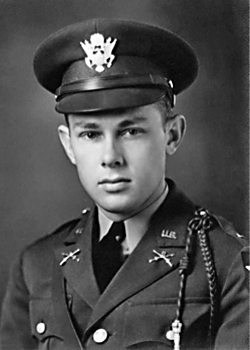 Donald B. Miller
Biography: Donald Busby Miller, "Don", was born on October 1, 1914, in Semonole, Oklahoma. He was the son of Joseph J. Miller and Geraldine Busby and grew up in Chickasha where his father was a professor at the Oklahoma College for Women. He was also a Reserve Officer in the the United States Army. His mother was a delegate in the Oklahoma Democratic Party and was also active in community organizations.
Don attended local schools where he excelled as an athlete and was an All-American high school tennis player. He was also a musician and Eagle Scout. He continued his education at Oklahoma University but transferred, after receiving an appointment, to the United States Military Academy at West Point, New York. While there, he continued his tennis and music activities and achieved Sharpshooter status with the pistol, graduating in 1939.
In June of 1940, Don married the former Maurine Friedrich, who was from San Antonio, Texas. At the time, he was a Lieutenant and stationed at Fort Sam Houston, Texas.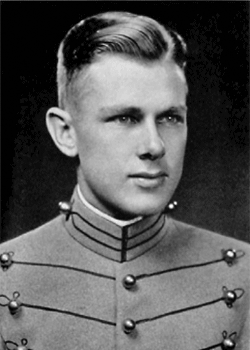 Service Time: Don rose quickly through the ranks, being promoted to 1st Lieutenant in 1940, Captain in early 1942, and Major later that same year. In October 1943, he was promoted to Lt. Colonel.
He served with the 9th Infantry Regiment of the Second Infantry Division, Commanding their Anti-Tank Company and then the 2nd Battalion as a Regimental Operations Officer. He attended the Infantry School, the Tank Destroyer School and Command and General Staff School before being assigned as the Commanding Officer of the 661st Tank Destroyer Battalion.
The unit had been activated on April 17, 1943, at Camp Bowie, Texas. They shipped out from the New York port on January 10, 1945, and arrived at Le Havre, France, on the 21st. They were equipped with M18 tank destroyers and committed to battle at Rocherath-Krinkelt, Belgium, on February 16th. They fought along the Siegfried Line near Helenthal, Germany, in March and crossed the Rhine on March 27th. Advancing across Germany to Leipzig by April 17th, the men saw their last fighting at this time. They shipped back to the U.S. in early July.
The 661st received credit for the campaigns of Rhineland and Central Europe and Don was awarded the Bronze Star for Meritorious Service. He stayed in the Army and had numerous assignments throughout his long career, includeing the Berlin Airlift, in 1948, and the Army War College in Carlisle Barracks, Pennsylvania. He commanded the famous "Rock of the Marne" 38th Infantry Regiment while stationed at Fort Lewis, Washington and served in the Korean War.
He was assigned to the Joint Chiefs of Staff in Washington, D.C., and as a Defense Attache to the American Embassy in Tokyo, Japan. Don was promoted to Colonel in the Regular Army on June 12, 1964, and retired in 1968. He then returned to school at St. Mary's University in San Antonio, where he earned a Master's Degree in history. He was also a member of the Meteorological Society and received multiple awards of the Air Force Commendation Medal. As of 1972, he was Chairman of the group for the District of Columbia.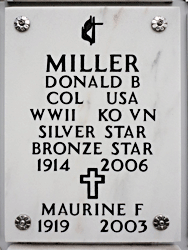 Don and Maurine, "Rene", had three children, Mike, Pat and Janet and were together for 62 years when she passed away in 2003. Don passed away on May 30, 2006, and was buried in the Fort Sam Houston National Cemetery in San Antonio, TX.
I want to thank Don's niece, Sarah, for the main photo and e-yearbook.com for the use of the West Point photo. The grave marker photo is used by permission, © 2015 by LKat on Find A Grave.